This article is more than 1 year old
Freecom Secure
Swipe your card, gain access to your external HDD
Review We've seen a fair few hard drives with built-in fingerprint readers, but here's one that uses RFID cards instead of digits.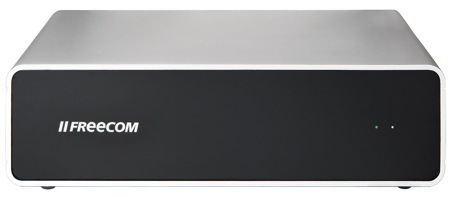 Freecom's Hard Drive Secure: there's a RFID reader behind the drive's glossy front
The notion is simple: if you want to access the data on the drive, you'll need to touch the unit with a smartcard to do so. No card, no files. And the protected data is encrypted to AES standard - 128-bit at a guess - to hinder any herbert who tries to get to the information by other means.
Freecom's simply named Hard Drive Secure is further protected with a seamless brushed aluminium casing, though the front and back are glossy black plastic. There are no obvious screw-holes, though we wouldn't put ripping off the rubber feet or prising off the back panel beyond any sufficiently zealous data thief.
The unit is a little less than twice the size of a regular 3.5in hard drive, the enclosure having been designed to take up to 2TB of storage, though the model we had in to look at had a more modest, 500GB storage capacity. There are a couple of tiny LEDs on the front - more on this in a moment - and a printer-style USB connector on the back alongside the power socket and on-off switch.
Out of the box, the drive is formatted using FAT32, but you can re-format it to NTFS or HFS+ using Windows' and Mac OS X's own tools, respectively. Indeed, Freecom encourages you to do this after you've backed up the bundled RFID management utilities for both platforms, along with back-up software and, in the case of Windows, a couple of trialware apps, to your computer's own hard drive.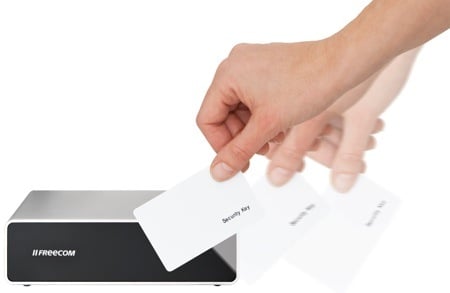 Swipe for access
We ended up - how, we're not entirely sure, but it involved reformatting the disk - with a drive that neither the Windows nor Mac RFID software would see but which was nonetheless protected. Put it this way, it wouldn't mount unless presented with a smartcard. Ejecting the disk - properly, using the OS, or simply by yanking the cable - would automatically 'lock' it again.