This article is more than 1 year old
Samsung shows off 'world's thinnest' LCD TV
Needle Slim just 3mm thick
An LCD TV thin enough to rival Sony's XEL-1 OLED screen has finally been unveiled.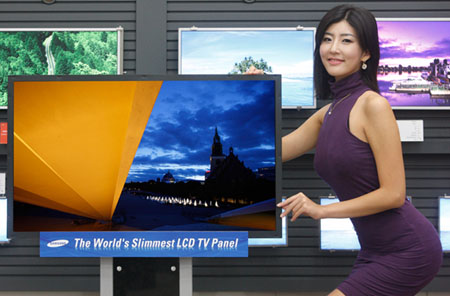 Samsung's Needle Slim measures 3mm from front to back
The Samsung Needle Slim LCD TV is a mere 3mm thick – the same depth as Sony's 11in XEL-1, yet it boasts a far more respectable 40in screen size.
Samsung recently demoed the Needle Slim in Korea, but as yet the only other technical details to emerge about the set are its 120Hz refresh rate and 5000:1 contrast ratio.
It's probably safe to assume that the Needle Slim has a 1080p resolution. And that the tuner and so forth are in a separate unit.
Register Hardware has its fingers crossed for a UK launch of the Samsung Needle Slim sometime soon. ®