NASA's Ares I-X is still standing on Kennedy Space Centre's launchpad 39B, following the cancellation of the first trailblazing flight of the Constellation programme.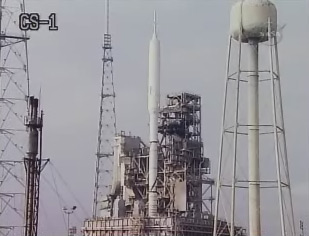 The launch was delayed while NASA eyed the skies with suspicion, and a stray cargo ship in the launch danger area prompted a minor scare. Launch Weather Officer Kathy Winters stopped a final countdown due to potential violation of the "triboelectrification rule", and the weather eventually forced a complete scrub.
Launch Test Director Jeff Spaulding said: "We had some opportunities, but just couldn't get there. Weather didn't cooperate."
When the vehicle eventually does make it off the ground (tomorrow, all being well), an active first stage powered by solid rocket boosters will lift a dummy upper stage to an altitude of 40km (25 miles).
Following separation of the two main components, the booster stage is designed to parachute into the Atlantic for recovery by NASA's retrieval ships Freedom Star and Liberty Star, while the dummy elements are consigned to a watery grave.
The Ares I-X flight offers NASA "an early chance to test and prove the new rocket's flight characteristics, hardware, facilities and ground operations", while its 700 sensors will enable the agency to "collect data for use in future exploration missions".
Quite what those missions may be remains to be seen, since the future of the whole Constellation programme is in doubt.
The Obama-appointed committee which reviewed the future of the US's human spaceflight programme reported that without a substantial injection of cash, the US's plans to return to the Moon and set its sights on Mars were on a hike to nowhere.
Regarding the Ares I, and its intended use to resupply the International Space Station, committee chairman Norman Augustine suggested it would be better to spend the cash elsewhere rather than "running a trucking service to low-Earth orbit".
NASA's full Ares I-X coverage can be found here and the launch blog here. ®
Similar topics