Researchers at IBM have created a tool to put vocal flow into any web site, making life easier for the blind as well as the exceptionally lazy.
Blind web surfers use software which reads out the contents of web pages at a bewildering speed (to those unused to it), allowing the user to select hyperlinks and navigate sites. Badly-designed sites don't flow properly, which makes it hard to follow. Big sites can afford to optimise their content for the blind, but the new toolkit from IBM allows anyone to create an optimised flow just by dragging arrows to show how the site should be read.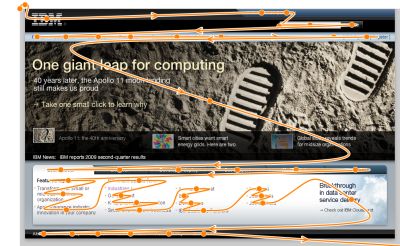 Large bodies of text present no difficulty to reading software, but the more-innovative layouts of today's Web 2.0 menagerie are more of a challenge. IBM's existing Social Accessibility Project allows sighted volunteers to add navigational information to web sites though a handy sidebar. That navigational information is then stored on servers run by the project and loaded by reading software when needed.
IBM's new tools will be shared through that project, and flows created by webmasters for their own pages will be uploaded to the Social Accessibility server for use by blind web surfers, not to mention those who need to use the web without a screen, or those for whom reading is just too twentieth century. ®
Similar topics