This article is more than 1 year old
MSI X-Slim X600 15.6in notebook
Light as a feather, would you believe?
Review We're beginning to think there's some sort of competition between laptop manufacturers to come up with the most ridiculous marketing statements. In our recent review of the EasyNote Butterfly, we were left cringing at Packard Bell's explanation of exactly why it had chosen to use that name.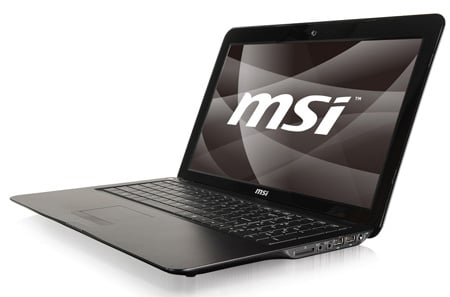 MSI's X-Slim X600: literally, as light as a feather, apparently
Now, with the X600, we have MSI saying it "strives to be literally as light as a feather". Yes, that's right – literally, not metaphorically. With the X600 weighing 2.1kg, MSI has either failed dismally in its quest or there are some gargantuan birds strutting around its offices. Still, as far as dimensions go it is rather thin. There are more slender laptops available (Apple's 1.94cm MacBook Air springs to mind), but at 2.5cm MSI isn't too far off the pace.
The X600-055UK version we're reviewing here is powered by an SU9600 processor. This is an ultra-low voltage chip, but unlike the SU3500 that powers the Packard Bell EasyNote Butterfly, it still manages to pack in two cores. With a clock speed of 1.6GHz and 3MB of L2 cache, it's no speed demon but, as we'll detail in a moment, neither is it woefully under-powered.
MSI includes 4GB of DDR2 memory with the X600. The pre-installed 32-bit Windows Vista Home Premium can't handle more than this, but Windows 7 can and a free upgrade is included. However, those keen on upgrading the memory will be dismayed to see a label covering up the screw for the rear panel, along with a stern warning that the warranty will be void if it's removed.
On the left, you'll find two video outputs in the form of HDMI and VGA ports, along with Gigabit Lan and a combined eSATA/USB port. Over on the right, you get two more USB ports, audio in and out sockets, plus an SD/MMC card slot. The power socket is also on the right. There are no ports on the front or rear of the chassis, nor is there room for an Expresscard slot.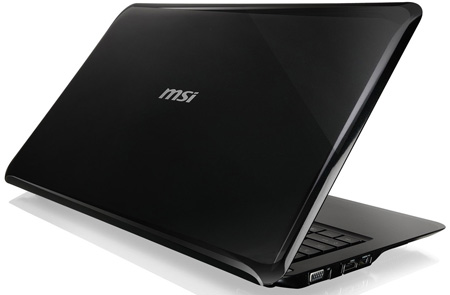 Room only for three USB ports and no DVD drive
The 15.6in display features a glossy coating and runs off a 16:9 native resolution of 1366 x 768. Like the vast majority of laptop displays these days, it's LED backlit. It's also impressively bright, but we had to chuckle when, on the specification label on the box, we noticed it's listed as "15.6 WXGA (Glare Type)". Poor choice of words, perhaps, and it's no more of a magnet for reflections than other 'glare type' screens we've seen. Horizontal viewing angles aren't great, though – stray from the centre sweet spot and it soon loses clarity. A nasty speckled effect is also noticeable when viewed from an angle.