This article is more than 1 year old
MSI X-Slim X600 15.6in notebook
Light as a feather, would you believe?
Given its slim nature, it's not surprising that there's no optical drive built into the chassis. However, MSI does include an external DVD writer to make up for this. Meanwhile, an Intel Wi-Fi Link 5100 card provides 802.11n wireless and Bluetooth is also included.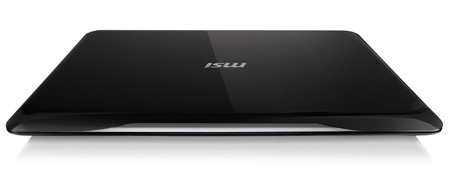 Glossy lids always look pretty, but they also love fingerprints
A 5,400rpm Western Digital Scorpio Blue hard drive lurks within, offering a decent 500GB of storage. We have to question MSI's partitioning decisions, though. Understandably, the drive features two partitions, but the Windows one is a mere 44GB. If this partition was reserved for Windows files this wouldn't be so much of a problem. However, MSI has crammed all of its bloatware (including trials of MS Office 2007, Norton Internet Security etc.) on here too. The end result is that the C: drive has just 7.8GB of free space to play with.
MSI also includes a few utilities of its own, including one called S-Bar. This animated application launch bar pops up when you drag the mouse to the bottom of the screen and has obviously taken the Dock in OS X as its inspiration. If Freecell, Hearts and Minesweeper aren't your thing, you can change the applications, but it didn't take us long to get fed up with it and kill it off.
As far as usability goes, the keys are large and ever-so-slightly convex, but being so close to each other, it's easy to slip onto a neighbouring key when touch-typing. There's also room for a numerical keypad, although the zero key has been squished to as to accommodate the arrow keys. The small Enter and Backspace keys also take a while to get used to. Despite the thin chassis, the keyboard features very little flex – there is some flexing noticeable on the numerical keypad, but on the whole it's a solid keyboard.
Sat below the keyboard is a multi-touch trackpad. This is able to recognise both two- and three-fingered gestures, including scrolling, rotating and magnifying. It could do with a slightly rougher texture, though, as we found our fingers sticking to it unless we used a feather-light style.
MSI has opted to furnish the X600 with four speakers and proudly claims it is capable of "theatre class" audio. Despite this, we were left feeling somewhat underwhelmed by the sound quality. All four speakers are situated on the underside of the chassis; two are found just under the front lip, while the other two are placed right at the back. The end result is that audio sounds much better when the laptop is upside down, which is hardly ideal. MSI would have been better off ditching the rear two speakers and replacing them with a subwoofer to add some bass to the rather tinny audio.