This article is more than 1 year old
MSI X-Slim X600 15.6in notebook
Light as a feather, would you believe?
The X600 ships with a six-cell 5400mAh battery as standard. It's a large but thin unit, and slots neatly into the underside of the chassis without adding anything to the overall thickness. In our intensive battery test, it managed to provide two hours and four minutes. MSI includes its own battery-saving mode, which adds around 50 minutes to this figure, but you have to cope with an almost completely dimmed display and a processor that's capped at 20 per cent usage.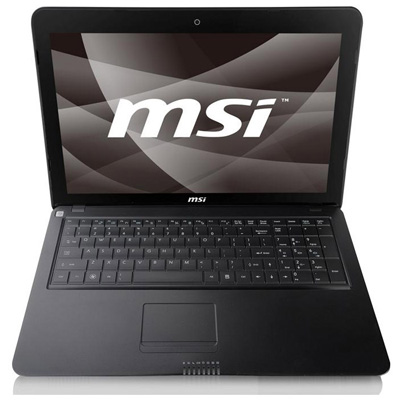 Decent-sized keys, but not much room between them
So, back to that ULV SU9600 processor. Being part of Intel's Core 2 Duo range, it's a dual-core model and therefore far more capable than the single-core SU3500 that featured in Packard Bell's EasyNote Butterfly. This is most obvious in PCMark05's CPU test, with the SU9600 achieving a score of 4086 compared to the SU3500's 2245.
3D performance is helped by the inclusion of an ATI Mobility Radeon 4330 graphics card. Combined with the 1.6GHz ULV processor, this doesn't turn the X600 into a monster games machine, but it is capable of some light gaming. We tried out Call of Duty 4 at the laptop's native 1366 x 768 with 4x anti-aliasing and achieved a rather jerky 12.3fps. However, dropping down to 1024 x 768 and turning AA off resulted in a far more playable 21.8fps.
During testing, the X600's fan ramped up to a level that could start to annoy in a quiet room. In fact, even when not under strain the laptop's fan continued to whir away, albeit at a slower speed. Thankfully the chassis doesn't suffer from any particular hot spots, although the wrist rest does get noticeably warm after half an hour or so.
As with any style-driven laptop, you end up paying a fairly high premium for its design. And at £799, the X600 is by no means cheap. Packard Bell's EasyNote Butterfly is £100 cheaper, has two-and-a-half times the X600's battery life and also weighs under 2kg. However, with integrated graphics and a single-core processor, the Butterfly can't get anywhere near the level of the X600's performance.
Verdict
Had MSI managed to get closer to its 'light as a feather' goal (and we're talking at least half a kilo closer here), and offered longer battery life, the X600 would have scored higher. Ultimately, as with the EasyNote Butterfly, our main criticism is that it's just too darn expensive. ®
More Notebook Reviews...

Packard Bell
EasyNote Butterfly s

Asus
UX50V

Toshiba
Satellite A350-12J

Dell Studio 15

MSI X-Slim X600 15.6in notebook
An attractive 15.6in laptop, but it's expensive and not as light or thin as MSI would have you imagine.