This article is more than 1 year old
Sky Player hits Xbox 360
No dish required
Broadcaster Sky has launched its long-awaited video-on-demand and streaming service for the Xbox 360.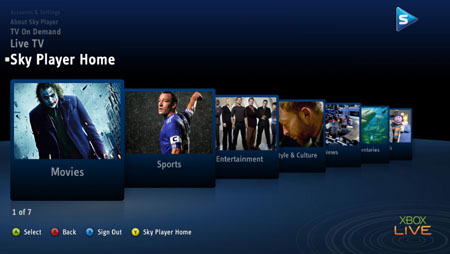 Sky Player's 'Home' screen on Xbox Live
Called Sky Player, the service – the first of its kind for a games console, Sky claimed - works through Xbox Live and provides gamers with access to 24 live streaming channels and "thousands of hours of on-demand programmes".
As previously reported, Avatar Party Mode (shown below) allows gamers to watch live TV, including football events, with their friends' on-screen avatars. Once there, virtual chums can chat with one another in real time.
Sky Player doesn't require Xbox owners to have a dish installed, but in order to access the service gamers must first hold a gold-level Live membership, currently £40 ($65/€44) per year.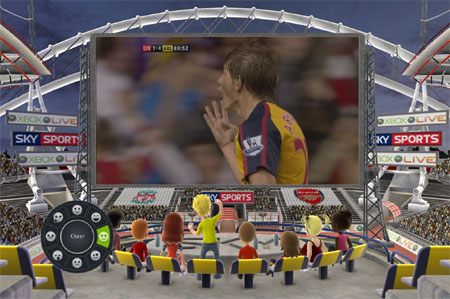 Sky Player's Avatar Party Mode
You can then select from numerous Sky monthly subscription packages, each priced at between £15 and £50. Sky Sports packages are also available, but US sports channel ESPN can only be added as a £12 extra.
Gamers can't pay to watch, say, an individual football match. Nor can they pay for Sky Player with Microsoft's Xbox Live points currency.
All live content will be streamed in standard definition, while on-demand content will be sent over in "DVD quality", Sky said.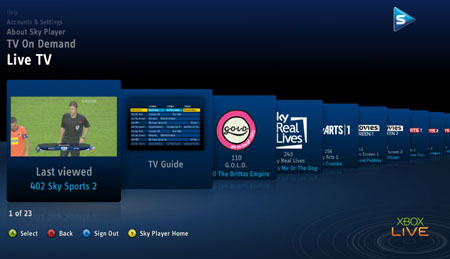 Access requires both gold-level Xbox Live membership and a Sky subscription
Sky has created a Sky Player retail bundle pack priced at £30. It includes a one-month Sky Player Subscription to the Sky Sports Pack, a media remote and a three-month gold-level Live membership.
For more information about Sky Player, consult your Xbox 360. ®