This article is more than 1 year old
Governator in acrostic 'f**k you' outrage
Arnie's hidden message in letter to Democrat
Governator Arnold Schwarzenegger has told Democrat San Francisco assembly member Tom Ammiano just what he thinks of him and his "infrastructure financing districts" bill in a letter which explicity slams the latter, while firing a delicious acrostic broadside at its author: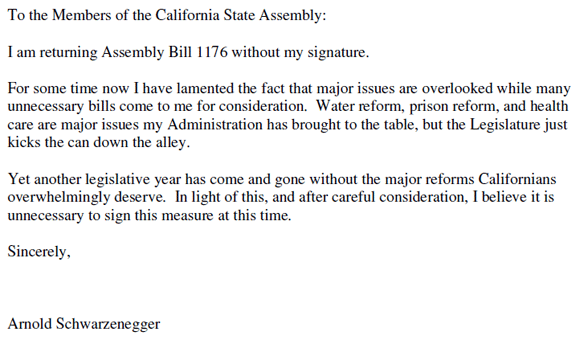 Arnie's spokesman, Aaron McLear, gasped: "My goodness. What a coincidence. I suppose when you do so many vetoes, something like this is bound to happen."
Quintin Mecke, Ammiano's mouthpiece, responded: "Kudos to the governor for his creative use of coincidence. You certainly have to have a sense of humour in politics. Unfortunately, this humour came at the cost of the Port of San Francisco."
Ammiano and Schwarzenegger don't enjoy the best of relations, Sky News notes, and "earlier this month Mr Ammiano heckled the Republican governor when he spoke at a Democrat event and accused him of being a liar". ®