This article is more than 1 year old
Android 2.0 delivered to developers
Coming to consumers next month?
The creation of apps based on version 2.0 of the Android OS should be underway within days, because Google has finally released Éclair to developers.
Éclair supersedes Donut – aka version 1.6 – and, to illustrate version 2.0's new features, Google has published a demo video which takes both developers and future users of the mobile OS through many of its new features.
Can't see the video? Download Flash Player from Adobe.com
Android 2.0 has at least seven core area updates, including: email, contacts and accounts, messaging, camera, Android's virtual keyboard and the browser.
For example, Android 2.0 adds in Exchange email support and allows for a combined inbox so that you can browse emails from multiple accounts within one page.
Google has also added a digital zoom feature to Android 2.0 and included a "scene mode" – which we assume refers to compact camera-style pre-programmed shooting modes, such as portrait and party shot.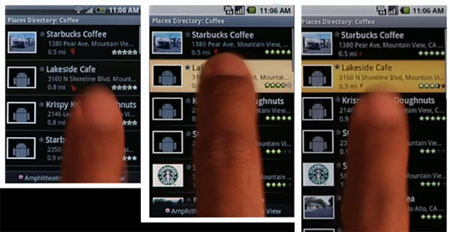 Android 2.0 supports different screen sizes
Android 2.0 now supports double-tap zooming within the browser – a major advantage, in our opinion - while the calendar even allows for "infinite scrolling" while in agenda view.
The Android 2.0 platform will be "deployable to... handsets starting in November 2009", Google said. ®