NASA's Ares I-X finally got off launchpad 39B at Kennedy Space Centre at 15:30 GMT today.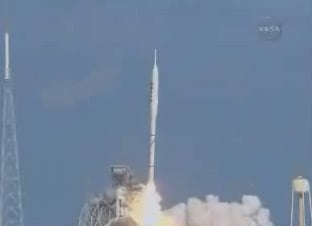 Following a scrubbed launch yesterday, and overnight thunderstorms, the Constellation programme trailblazer lifted off en route to an Atlantic splashdown at the end of a flight intended to "test and prove the new rocket's flight characteristics, hardware, facilities and ground operations".
Kennedy Space Center Director Bob Cabana congratulated the launch team, enthusing: "I'm just so proud of each and every one of you. Outstanding job."
NASA explains that the Ares I-X "combines 'heritage' hardware from existing programs with brand-new elements". It elaborates: "The first stage comprises four active, reusable solid rocket motors derived from the Space Shuttle Program, topped by a simulated fifth booster segment containing Atlas V avionics.
"These elements will be recovered from the Atlantic Ocean at the mission's end. Next are the forward skirt and its extension, and the distinctively funnel-shaped frustum, which adapts the narrow first stage to the wider upper stage.
"Above the frustum is the two-piece interstage, which houses an active roll control system based on the decommissioned Peacekeeper missile. The rocket's upper stage, spacecraft adapter, service module, crew module and launch abort system all are simulated and will not be recovered after splashdown."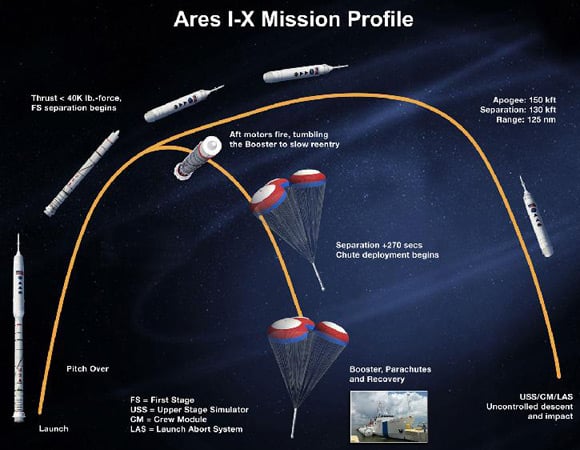 Whether this combination of heritage tech and 21st-century design eventually serves any purpose remains to be seen. Critics have suggested the Constellation programme is a waste of valuable resources, with Buzz Aldrin slamming NASA's ambitions to return to the Moon as "a glorified rehash of what we did 40 years ago".
Norman Augustine, chairman of the committee which reviewed the future of US manned spaceflight, specifically questioned the plan to use the Ares I to supply the International Space Station. He said: "We think NASA would be better served to spend its money and its ability, which is immense, focusing on going beyond low-Earth orbit rather than running a trucking service to low-Earth orbit."
NASA's Ares I-X launch blog is here and its main Ares I-X section here. ®
Similar topics