Review AMD's Radeon HD 5770 and 5750 are the mid-range members of the new HD 5000 DirectX 11 graphics chip family. They're fabbed using a 40nm process, just like their bigger brothers.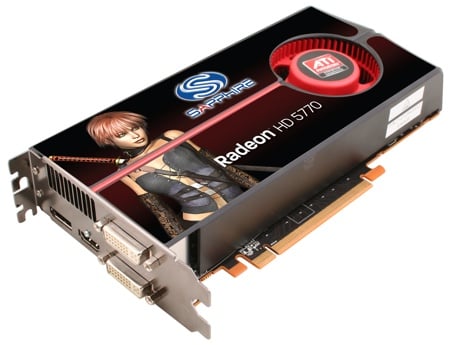 Sapphire's HD 5770: reference Radeon HD 5770 design
But the number of transistors in these mid-range chips - codenamed 'Juniper' - has been reduced by just over a half, from the 2.15bn in the 58x0 design, codenamed 'Cypress', to 1.04bn. The area of the chip has also been quartered, from 334mm² to 166mm².
Armed with that information, you won't be surprised to learn that the number of unified shaders in 5770 has been halved too. Which is to say that the 5870 has 1600 shaders and the 5770 has 800. The 5750 has 720.
When it comes to clock speeds, the 5770 has the same 850MHz core speed as 5870 while the 5750 runs at 700MHz, which is slightly slower than the 5850's 725MHz frequency. The specification of the memory breaks with tradition as the junior 5750 and 5770 use 1GB of GDDR 5 just like the grown-up 5850 and 5870. In the past, we've been accustomed to mid-range chips that use slower memory than their high-end siblings do. The high-end chips use a 256-bit memory controller while the new mid-rangers settle for a 128-bit controller.
It's a safe bet that AMD has chosen these shader counts and clock speeds to ensure there is a clear distinction between each member of the HD 5000 family and it also results in a neat cascade of prices.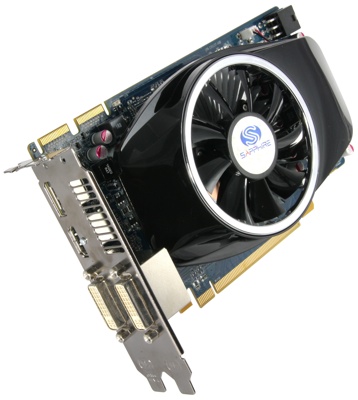 Radeon HD 5750: cool runner
The 5870 sells for £299 or you can buy the 5850 at a more reasonable £199 and still get masses of DirectX 11 performance. The 5770 slips in at £132 and the 5750 costs £110. The prices put the new DX11 chips head-to-head with Nvidia's DirectX 10 GeForce GTX 260, which typically sells for £125-160.
Similar topics