This article is more than 1 year old
Tesla Roadster travels 313 miles on single charge
From Alice Springs to Southern Australia
A Tesla Roadster has set a new unofficial record for the longest distance travelled by a production e-car on a single charge.
Hackett's Roadster was taking part in the annual Australian Global Green Challenge
Driven by owner Simon Hackett, the unmodified red 2008 Tesla Roadster managed to cover a 313 mile distance between Alice Springs in Australia's Northern Territory and the finish point – a marker 183 km north of Coober Pedy in Southern Australia – without a trip to the socket.
Hackett, along with co-driver Emilis Prelgauskas – were competing in the annual Australian Global Green Challenge.
The previous furthest recorded distance travelled by a fully-charged Tesla was 241 miles, set earlier this year during the Rallye Monte Carlo d'Energies Alternatives e-rally.
Tesla's official range for a fully-charged Tesla Roadster is 244 miles, but when Hackett's e-car pulled up near Coober its dials apparently revealed that the vehicle still had another three miles to spare.
The Monte Carlo Tesla, by contrast, had 38 miles left in the pack when it arrived in Monaco - giving it a theoretical maximum on the day of 279 miles.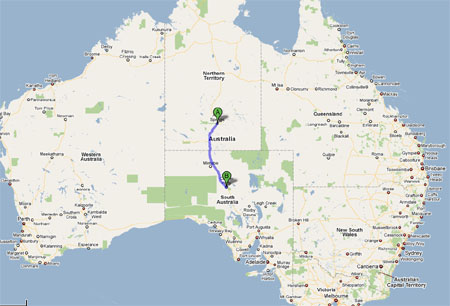 Hackett's 313 mile route, give or take a few miles
Of course the road from Valance to Monaco is a wee bit hilly, whereas the Stuart Highway – which Hackett drove on between Alice Springs to Coober Pedy - looks as flat as the proverbial pancake.
Hackett hasn't revealed any of his range extending driving tips, but neither he nor his co-driver are small men which makes the Tesla Roadster's achievement all the more impressive. ®