Asus has taken the wraps off what's certainly its first USB 3.0 motherboard and very possibly the first one of its kind at all.
The Xtreme Design P7P55D-E Premium board is based on Intel's P55 chipset, which doesn't support SuperSpeed USB, so Asus has integrated an unnamed third-party USB 3.0 controller which is hooked up to a pair of ports on the back of the board.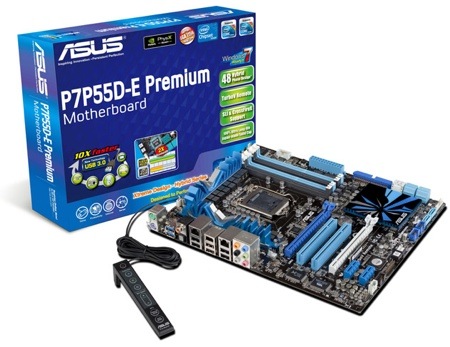 Asus' Xtreme Design P7P55D-E Premium: USB 3.0 on board
The board also has a pair of 6Gb/s Sata ports, along with six 3Gb/s ports. It has two PCIe x16 slots for graphics cards - it supports both AMD's CrossFire X and Nvidia's SLI multi-card technologies - and a pair of Gigabit Ethernet ports.
The SuperSpeed USB ports are compatible with USB 1.1 and 2.0 devices, but the board has ten USB 2.0 ports too, plus an eSata connector on a bracket.

Asus also announced the U3S6 PCIe x4 expansion card, designed for its P7P55D motherboard to bring USB 3.0 and 6Gb/s Sata to that board. In other respects the P7P55D's specs match those of the P7P55D-E.
The board's launch shows that claims Intel has put back the release of USB 3.0 supporting chipsets - if true - may not matter very much.
There's no word yet on pricing or availability, alas, for either motherboard or add-in card. ®