Geeks play Guitar Hero without guitars
Muscle movement replaces button bashing
---
We've all been air-guitar gods at some point in our lives. But now a band of boffins have proven that you don't need frets, a pick or even a controller to be a Guitar Hero.
Nerds from Microsoft, the University of Washington and the University of Toronto have jointly developed a "muscle/computer interface" able to control the music videogame without using the traditional four-buttoned plastic guitar.
Can't see the video? Download Flash Player from Adobe.com
The system – albeit in its early, lab-based days – is essentially a combination of sensors and gesture recognition software, the latter allowing the gamer to control Guitar Hero using a series of predefined movements.
A ring of sensors around the player's forearm pick up muscle movements from the surface of the skin. This process, the video (above) describes, is called electromyography.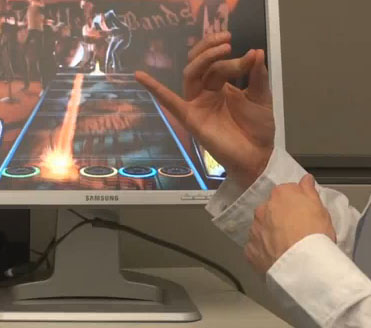 The muscle computer interface does away with all that unnecessary button bashing
These signals then work with gesture-detecting software to ensure that when, for example, the gamer touches their index finger to their thumb, Guitar Hero interprets the movement as though they were touching the red button on the game's plastic guitar.
Strumming, usually achieved on Guitar Hero by flexing the plastic guitar's strummer switch, is now replicated when the gamer uses their left arm to strum an invisible guitar.
Sticking a variety of sensors about your person just to become an air-guitar god won't work for everyone, so the developers are also working on a wireless system that could be integrated into an arm band.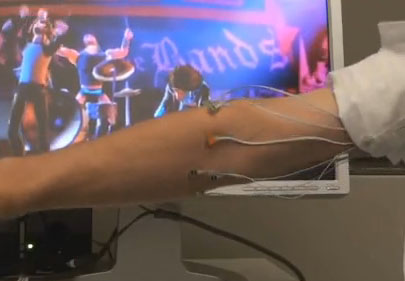 A wireless version of the Muscle computer interface is also in development
Sadly, no plans to release the tech as a peripheral have been announced. ®