This article is more than 1 year old
Motorola Dext Android smartphone
Well, hello Moto
Review Few would be surprised to learn that US brand Motorola has struggled of late. Since the flush of success it enjoyed with the Razr series back in 2004, Motorola has singularly failed to set the mobile world alight, seemingly watching as other brands grasped the smartphone nettle and raced to the future.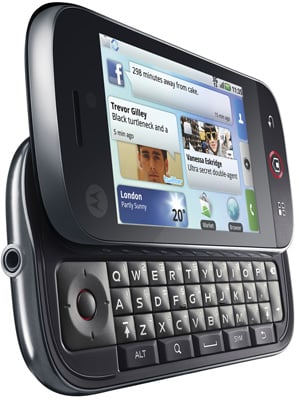 Motorola's Dext: better than we'd imagined
But now, the company thinks its saviour may be at hand. The Motorola Dext is a smartphone that focuses on social networking using its Motoblur service. This makes innovative use of cloud technology to put instant Facebook and Twitter updates on your home page and holds all your phone's info on a remote server, so you can access it anywhere and revise it instantly.
Motoblur features aside, the Dext runs the Android operating system, has a slide-out Qwerty keyboard, 5Mp camera, HSDPA 3G, Wi-Fi, A-GPS and a host of additional apps. However, for UK users, it's initially only available on the Orange network. The Motorola Dext is a fairly chunky device at 114x58x16mm and 163g. Still, its designers have made the effort to soften its brick-like tendencies by tapering the front edges dramatically. This actually feels a bit odd at first, since the top half sits slightly inside the bottom half, but it turned out to be quite a practical solution.
The front is taken up by a 3.1in capacitive LCD touchscreen, which easily manages the admirable trick of being sensitive enough to tell the difference between brushes and presses. Below it is menu button that doubles as a screen unlock button, plus home and back buttons.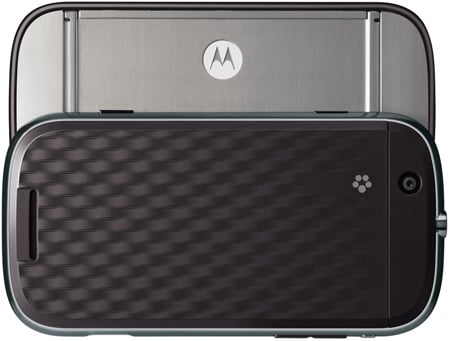 No flash or lens cover for the 5Mp camera
Around the sides are a camera shutter and a shortcut button that allows you to set your Wi-Fi, Bluetooth, flight mode and GPS settings as well as power off or on. On the other side is a mute switch, volume rocker and micro USB socket, with a slightly ostentatious 3.5mm phone jack on top.