The entire hard drive encryption tools are still available via the alternate installer, but for most users interested in protecting their laptops should they fall into unknown hands, the LiveCD's home directory option should provide ample protection and still allows the automatic login feature to work.
For its part, Microsoft has been pushing file and hard drive encryption in Windows 7 - the latter with BitLocker. However, encryption comes at a price with Microsoft: BitLocker is only available in the most expensive version of Windows 7 available to consumers and individuals, Windows 7 Ultimate priced $219.99 for an upgrade and $319.99 new.
In another notable parallel with Windows 7, Ubuntu 9.10 comes with features that aren't actually a part of the operating system. Yes, we're talking about the Ubuntu One cloud storage tools that come baked in with the latest release.
For Windows 7, various pieces are excluded from the installation media but are downloadable as a Windows Live package. These include Live Call, Live Messenger and Live Drive - Microsoft's online data storage and file sharing service with up to 25GB of free storage.
When it comes to the Ubuntu One client software you'll find in the Karmic Koala you get a simple way to backup, sync and share files over the web. Ubuntu One offers 2GB of storage for free, with a 50GB option available for the price of 10 per month. Ubuntu One also offers public shared folders, which other Ubuntu users can access from their desktop. Anyone not using Ubuntu can still access the files through their browser.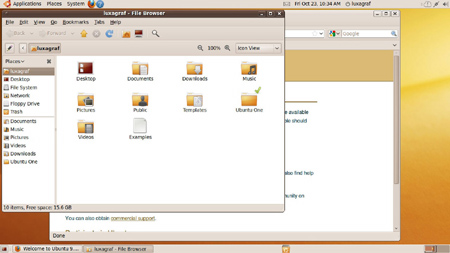 A clean interface for finding your files, with Ubuntu 9.10
Similar in both price and usage to other cloud backup and sync solutions (like Dropbox), Ubuntu One lets you designate the files and folders you'd like to backup or sync between Ubuntu installs. Previously, using Ubuntu One required enabling the universal repositories, and installing the client software.
Sadly, in our limited testing the Ubuntu One site continually timed out and threw proxy errors so we never able to login and sync our files. If nothing else, we take that as a sign that the service is popular with Ubuntu users.
Since the Ubuntu 9.10 beta was released, Canonical has expanded Ubuntu One from simple file synchronization to backup of some application data. For example, Tomboy notes created in Ubuntu 9.10 can be synced through Ubuntu One as well as contacts pulled from Evolution.
In a further nod to online services, Ubuntu 9.10 is available for download in both ISO format - directly and via Bittorrent. The new twist, though, is that for the first time the Linux distro is also available as a Cloud image format for use with Ubuntu Enterprise Cloud and Amazon's EC2.
Filesystem first
In other changes, Karmic Koala is the first Ubuntu release to use the ext4 filesystem by default. Savvy users might already have made the leap to ext4 with 9.04, which included support for ext4, though stopped short of making it the default option.
Karmic Koala sees ext4 making its prime time debut and it brings some speed improvements along with it, especially in areas that involve a lot of disk writing like moving and copying large files.
There is one downside, though: you can't always mount an ext4 file system using ext3, so if you frequently access your Ubuntu system by mounting it in ext3 environments you may experience some problems.
On the application front, not a lot has changed in Ubuntu 9.10. The Pidgin messaging client has finally been replaced with Empathy, something other GNOME distros have also done. Empathy isn't just a new Instant Messaging client though, it brings with it a whole new framework known as Telepathy. More than just a Pidgin replacement, Telepathy offers baked in video-chat and VOIP support, two things that aren't even on the Pidgin roadmap.
However, Pidgin has legions of loyal users who may be less than thrilled about Empathy. While the two look similar, Pidgin has quite a few more bells and whistles. Fortunately for those that want no part of Empathy, a quick trip to the new Software Center is all it takes to get Pidgin back on your desktop.
Overall, then: Ubuntu 9.10 is a very stable and despite a few quirks - like needing to enable AppArmor settings by hand - a worthy successor to Ubuntu 9.04. ®