On my way to a climate conference yesterday, I wondered what £6m worth of TV advertising might look like if it climate sceptics dominated the political and media elites, rather than environmental activists. This campaign would obviously be targeted at the small minority of people who think that their lifestyles affect the climate.
Perhaps creatives could come up with a 'Numptie' Family - who run around the house turning off lights, spend hours doing recycling, demand to eat vegetarian food, and send back their energy bills because they're not high enough. The message would be don't waste your time on pointless activities. The tag line could "Don't be a Numptie".
I expect that this would become a national sensation, (but perhaps not with Guardian readers,) and possibly even generate spin-offs. It would surely draw fewer complaints than the current £6m "behaviour change" campaign featuring the drowning cartoon dog.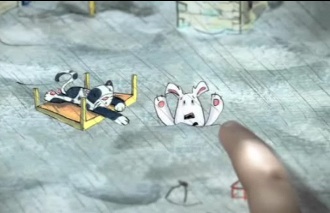 It would certainly meet with approval from most attendees of Piers Corbyn's "Climate Fool's Day" conference yesterday. There, at Imperial College, the air was thick with heresy.
The BBC sent two employees - who strangely, put as much distance between themselves and the "Deniers" as they could. If they were any further back from the stage, they would have been in the next room. A Freudian choice of seating? At Fools Day, almost every foundation of the manmade global warming hypothesis was attacked - including the views of other sceptical scientists.
This may be somewhat confusing to an agnostic. There's a great hunger for a 'silver bullet' to slay the Greenhouse Global Warming hypothesis, when none is really necessary. A hypothesis will die a natural death, if it is no longer an adequate explanation of the observations. No amount of financial or political buttress - or as a last resort, the precautionary principle - can prop up a bad theory forever.
The many cases against
What we got was a mixed bag.
WeatherAction's Piers Corbyn, who organised the gathering, sounded optimistic. He compared the struggle to overturn the manmade warming orthodoxy to John Harrison's struggle to get his revolutionary marine timepieces accepted by the scientific establishment.
"The science establishment refused to accept it. The politicians didn't care. But the Navy did care - he saved lives. It took decades to be recognized, but it's why we're here speaking English - people could navigate better."
"Today the science establishment is obsessed with CO2 - and politicians are mostly telling scientists what to do. But as with Harrison, users are going to win. It's the farmers, the people who are hit by typhoons."
"Once we've disproved the CO2 theory, there's not much need to debate why it doesn't work."
Corbyn, and those who followed, focussed on the poor historical correlation between CO2 and temperature.