It would seem that the American Land Warrior wearable war-smartphone system, once reviled by troops and cancelled by top brass, is now firmly on the road to military fashionability. The ultimate kit accolade - used by special forces - now appears to have been bestowed on the digi-trooper gear.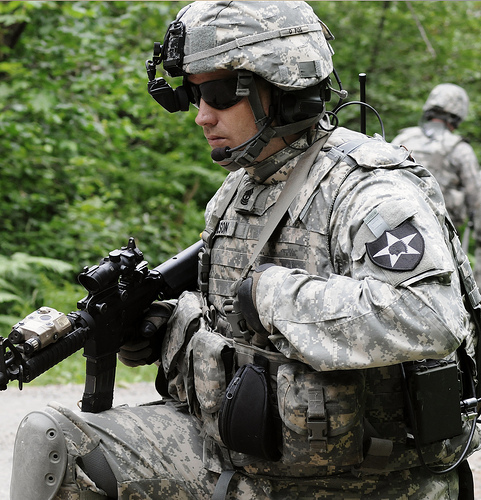 Improved GUI my ass
Land Warrior in its present form consists of a small low-power computer with ARM processor, GPS sat nav, radio networking, a flip-down monocle display and a keyboard/mouse unit worn on combat webbing. It is in use by the 5th Stryker Brigade Combat Team fighting in Afghanistan, following a successful tour in Iraq with a US infantry battalion.
Now Military.com reports that US Army kit bigwigs have stated that a modified version of Land Warrior will now be issued to "a Special Forces battalion". As the Land Warrior programme was officially cancelled in 2007, the gear is now known, apparently, as "Ground Soldier System".
In the US military, the term "Special Forces" isn't generic as it is in the UK - it refers specifically to US Army Special Forces, aka the Green Berets (as distinct from Navy SEALs, Delta Force, Rangers, Marine Force Recon etc etc, all generically grouped as "special operations forces"). If the report is accurate, then, it's Army Special Forces who will get the new Land Warrior.
The Green Berets, while undeniably frightfully elite, are "Tier Two" specwar people, not "Tier One" like Delta Force, the best of the best. The Berets are the rest of the best, as it were.
For supertrooper use, the Land Warrior's ordinary radio networking will apparently be upgraded to include satellite comms. Every operator will carry it, rather than just team leaders as in line units, and reportedly there will be a new and improved GUI as well. The kit is expected to weigh about the same as the 7lb sets now in use by the 5th SBCT.
Acceptance by special forces usually makes a piece of gear trendy enough in military circles that it's sure to become widely used in time. It would appear that Western soldiers really will be networked up fairly soon now.
So what's next for Land Warrior Ground Soldier System?
According to Colonel Will Riggins of Program Executive Office Soldier, it's a wireless personal area network style setup, as opposed to today's cables and wires snaking around a soldier's body armour and helmet.
"Once we're there I think we're going to have another huge jump in capability," the colonel told Military.com. ®
Similar topics