Nikon D3000 digital SLR
Top shot techniques tutor at a not-so-painful price
Review The D3000 is the new entry-level DSLR from Nikon and it's aimed at the complete beginner with high-performance ambitions. It replaces the best selling D60 and marks a much needed and anticipated upgrade. The basic kit includes an 18-55mm lens and comes in at £429, stirring up competition for its main rivals the Canon EOS 450D, the Sony A330 and the Olympus E520.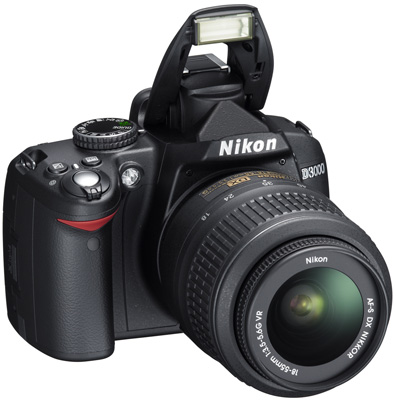 Flash kit: Nikon's D3000
At 126 x 97 x 64mm and weighing 485g, the D3000 retains the design and overall build of the D60. While keeping the 10.2Mp DX-format CCD sensor of previous entry-level models, Nikon has also introduced some handy new features and raised the specs to match some of its higher-end models. A case in point is the inclusion of Nikon's flagship EXPEED image processing technology and the very useful on-board auto sensor cleaning system.
Among the shooting options available is an intelligent Guide Mode. This is an ideal function for newcomers, this is substantially different from a typical auto exposure mode. By selecting Guide Mode, you access a menu that prompts you to make decisions on the image composition and then makes the right settings for the results you had in mind. Quicker than reading a manual, it offers a much simpler way for the novice to familiarise themselves with the camera's capabilities as well as time-honoured photographic techniques for pics just like a pro, sort of.
Other features include Scene Recognition, that analyses the composition and optimises the image settings accordingly. Picture Control customises the look of your image before shooting with six different settings: standard, neutral, vivid, monochrome, portrait and landscape. Active D-Lighting tackles the difficulties of shooting in bright sunlight and works to preserve details in high contrast images.
The D3000 also offers an improved focusing system akin to the higher-end models with 11 AF points, instead of the 3 AF points of the D60. The new 3D subject tracking system is impressive, working well even with fast-moving subjects. And in common with its bigger siblings, the new Nikon is very responsive, with no real shutter lag and the continuous shooting mode allows you to take up to 3fps.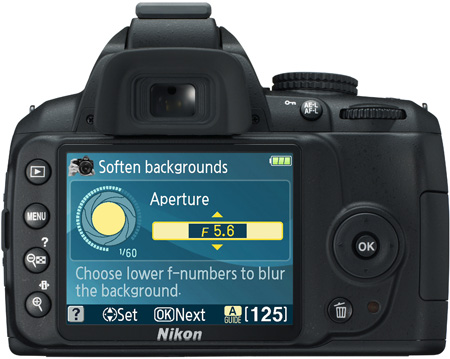 Guide Mode reveals the adjustments needed to deliver photographic effects
The 3in LCD screen features 230,000 pixels and is a considerably larger screen than its predecessor. It is bright and accurate for checking exposure and has a rapid zoom in capability with excellent definition – useful for examining focus and noise artefacts on images. For a tilting LCD panel, users will need to opt for the much more expensive D5000. Furthermore, Nikon decided against equipping the D3000 with a Live View mode or movie facility. On the plus side though, the optical viewfinder is well-conceived, providing all the information you need when shooting.