This article is more than 1 year old
Ignoring P2Pers costs music biz dear - survey
Most don't leech, think tank discovers
A think tank survey into UK music fans suggests that timid major record companies, obsessed with "cannibalisation" and "substitution", have spent a decade barking up the wrong tree.
The Demos report, sponsored by Virgin Media, suggests file sharers aren't the wreckers of civilization they're painted to be - but failing to convert them into paying punters has cost the industry dear.
Two important strands emerge. Most of the population (74 per cent) pay for their music, and a majority - almost two thirds - never download unlicensed music. But those who do download are also spending on entertainment services, such as Skyplus. So by failing to be competitive with rival rival entertainment sectors, the music business is losing its wallet share. (See Fify Quid Bloke - meet Spotify's 14p man). The inward looking obsession where one format "substitutes" or "cannibalises" another has been the wrong conversation.
Overall, the survey finds something for everyone to draw comfort from - whether it's lower prices for songs or disconnection for downloaders.
Unsurprisingly the research finds a strong propensity to use unlicensed services amongst music fans - people who spend the most on music. And the opposite too: people who aren't interesting in acquiring music legitimately, as you'd expect, don't bother looking for it on the interwebs.
That's no surprise, but an uncomfortable statistic for the music business is that two-thirds of people polled never touch an unlicensed service at all - their hands (and mice) are clean. This makes it harder to argue that P2P Pirates have brought the industry to its knees, rather than other factors such as unbundling or failing to innovate.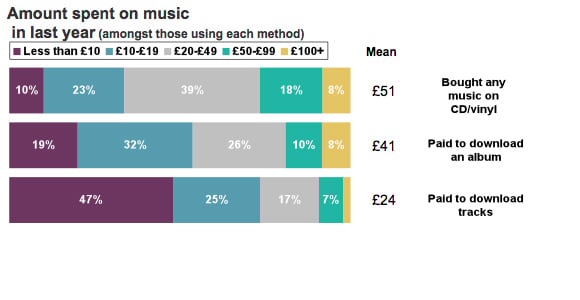 High spending music fans also go hunting for unlicensed music - shock!
It's equally an uncomfortable figure for anti-copyright campaigners who argue that file sharing is now the norm. The "Everybody does it" argument is hard to sustain, when two thirds of people don't. But money talk may win the day. Since P2P-ers are already spending on replay TV services (72 per cent) and Skyplayer (24 per cent) - it suggests that failing to turn this group into paying punters is a costly error.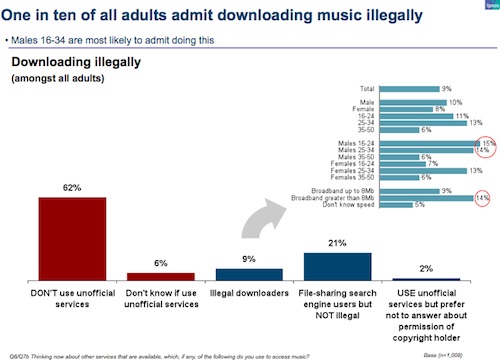 Almost two thirds surveyed don't leech [click to enlarge]
Confirming the polarized nature of the rhetoric, almost as many people think downloaders should be disconnected from their ISPs as believe that copyright should be reformed.