Apple MacBook Late 2009
Plastic phoenix rises
---
What really caught our eye, though, was the new screen. The 13.3in size and 1280 x 800 resolution are the same as before but the MacBook's screen now uses LED backlighting. We sat the new model right beside one of its predecessors and the increased brightness and bolder colours genuinely made the screen of the older model look pale and lifeless.

Farewell, Firewire
The trackpad has been updated too, as the MacBook now gets the same large 'multitouch' trackpad as the MacBook Pro range, which allows you to use multi-fingered gestures to perform tasks such as zooming in on images and rotating them. The whole pad is a physical 'left-click' button too.
The traditional Apple SuperDrive DVD/CD burner is still in place on the right-hand edge of the unit, while the various ports and connectors are all on the left edge. We were disappointed to see that Apple has dropped Firewire from this model, which means that anyone that wants the long-establish Mac connectivity option will need to fork out at least another £100 for one of the MacBook Pro models, or stop using Firewire devices.
External connectivity is now limited to just two USB 2.0 ports, Gigabit Ethernet and a single 3.5mm combo digital optical and analog audio input/output port. There's a mini DisplayPort for connecting the computer to a monitor, which means that you'll need to buy a separate adaptor if you want to hook it up to a VGA, DVI or HDMI display.
We also noticed that Apple no longer bundles its (recently redesigned) remote control with any Mac models – one of those niggling little cost-cutting measures that reminds us that Apple is just as tight-fisted as any other mega-corporation, despite its touchy-feely image.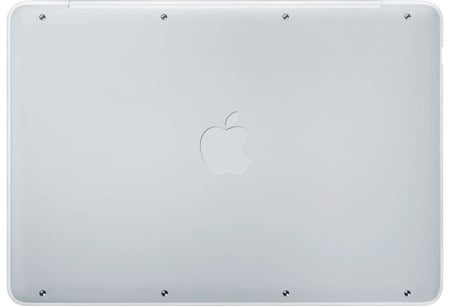 No more feet, either - just a tactile good-grip base
There have been a few changes inside the unit too. The Intel Core 2 Duo processor gets a small speed bump from 2.13GHz to 2.26GHz, and the hard disk capacity rises from 160GB to 250GB. The Nvidia GeForce 9400M chipset with its fast integrated graphics is unchanged, as is the standard memory capacity - 2GB - but the memory speed is bumped from 800Hz to 1000MHz to provide an a little performance boost, and it's now DDR 3 rather than DDR 2. The integrated graphics take 256MB of this.