Apple MacBook Late 2009
Plastic phoenix rises
---
We benchmarked the MacBook using both the Mac-native Xbench and the Windows-based PCMark 05 and 3DMark running on a Windows partition created with Apple's Boot Camp software. The new MacBook consistently came in around 10-15 per cent faster than its predecessor. The 5400rpm hard disk is a bit sluggish, but graphics performance is more respectable and the MacBook even managed to run the PC version of Far Cry 2 at a playable 27f/s. That was at its native 1280 x 800 screen resolution, and we nudged up to 34f/s when we dropped it to 800 x 600, so the MacBook can even pass muster for the occasional outburst of PC gaming action if you're so inclined.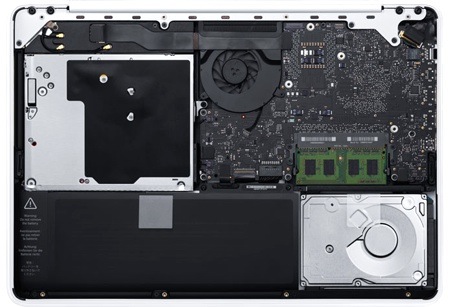 The battery's built in now, but is a long runner
However, the biggest single change in this model is the inclusion of the same lithium-polymer battery that Apple has already introduced into the MacBook Pro range. The battery is sealed into this model – as it is in all of Apple's other laptops – so you can't swap in a spare battery once the original has run down.
That said, we have to admit that the battery performance was quite impressive. To really push the battery, we ran PCMark 05 non-stop under Windows, and it lasted for just five minutes short of a very-respectable three hours (175 minutes). You can easily double that figure for regular usage and even further if you're willing to sacrifice screen brightness and wireless connectivity.
When we switched back to Mac OS X in order to run some H.264 films, we got an impressive two-minutes-short-of-five-hours' worth of Hollywood blockbuster out of the MacBook.
Our one complaint is that the price of the MacBook has gone up again – this time from £749 to £799. In fact, this time last year you could get a MacBook with Firewire and a DVI interface for £719. In a way, you have to admire the sheer chutzpah of a company that can increase prices during a steep recession and still score double-digit sales growth.
Verdict
The creeping price increases mean that the new MacBook doesn't offer quite the same value for money as earlier models, yet its continued success is testament to the sheer quality of Apple's design work. There are plenty of cheaper PC notebooks and netbooks available, but the design and build quality of the MacBook still make it stand out from the crowd. Thankfully, though, there's more to the MacBook than just its good looks, and the improved screen quality, performance and battery life make this a really solid little workhorse of a laptop that will earn its keep – despite the price hike. ®
More Apple Reviews...

MacBook Air
June 2009

MacBook Pro 15in
June 2009

MacBook Pro 13in
June 2009

Mac Pro

Apple MacBook Late 2009
The price hike and loss of Firewire are annoying, but the improved screen, performance and battery life make this a strong upgrade.