Open-source skeptics in suits
From day one, his thinking went against the grain. Faced with little budget, Simhambhatla picked open source to get things running. He built the web site on MySQL, Red Hat, Apache, Tomcat and UltraMonkey. The email system went Postfix for the MTA, with ClamAV with Amavisd-new, spamassassin, and Maia Mailguard for the anti-virus and anti-spam defenses. The VPN server is OpenVPN integrated with Microsoft's Active Directory, document management comes courtesy of Knowledge Tree DMS and issue tracking is from Scarab.
And there were no support contacts. Even today, Virgin's kept things light, with just two support agreements for its open source - for Red Hat and MySQL.
Simhambhatla - who joined Virgin from outside the travel industry - faced skepticism from colleagues who'd been recruited from competing airlines, with IT budgets of billions of dollars spent on products and services from companies like Microsoft, IBM, and Oracle.
"One of my biggest challenges was being able to convince my peers, seniors and executives that open source was the right way to go, not because it was great but the right way to go because it was technologically superior. All these guys come form other airlines where IT has $10m budgets, but my challenge was to show I could deliver the same and better for a fraction less," he said.
Open source proved itself, however, and Simhambhatla notes there's never been a single issue. Open-source proved itself reliable, overcoming early skepticism.
Today, that open-source website, Virgin's financials, its frequent flyer club, the email system, and a host of servers - specific to the airline sector plus more bread-and-butter business systems - live on 100 massive servers at Virgin's Burlingame, California, head office. The typical box is a one-, two- or four-U unit quad-core 4Gb machine with a handful of 32Gb machines.
Just two and a half years in, Simhambhatla said his dream already is to rid his data center of racks. Servers have three things going against them: they need administrators, they eat up physical space and money as you add more to try to increase your computing capacity, and they consume gobs of power. All these factors mean increased cost for an airline whose average ticket comes in around $150.
The goal is to concentrate all the internal servers - but not some very specific industry server applications that require dedicated machines - on between 60 and 70 blades with 16Gb of memory each, eight CPUs, and four network interface cards. These will be sliced and spun up using VMware virtualization. "I can bring more and more applications and more and more services on to the same blade using virtualization so the cost of ownership over time reduces quite nicely," Simhambhatla said.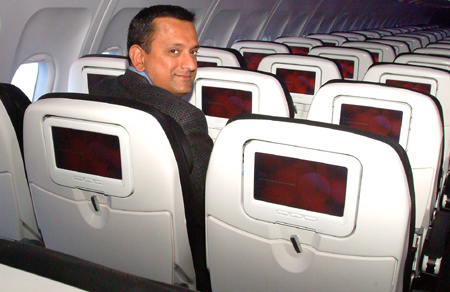 Ready for take off: Simhambhatla believes the cloud will provide Virgin on-tap compute capacity
One of the data-center's biggest and most important occupants is Virgin's web site. The site is Virgin's primary shop window, generating up to 72 per cent of revenue. Through the site, Virgin holds regular sales - three this year - that Simhambhatla said pull in 700,000 hits during the first three to four hours after a sale has been announced, producing peaks in traffic. To give you an idea of what's at stake: Virgin's April sale contributed to revenue of $100m during its first quarter - growth of 90 per cent, during a recession.
Typically, the site will run on eight blades and peak at between five an 10 per cent of capacity during a sale. "We are barely scratching the surface," Simhambhatla admitted.
Into the clouds
His eye, though, is on increasing traffic and achieving growth without engaging in the time-honored practice of adding additional computing capacity of buying more servers. Simhambhatla said Amazon or Force.com service could provide potentially un-restricted capacity, which he could fire up at the moment he needs it, for a low monthly cost.
For Simhambhatla, as long as he can get "great" computing capacity and do it for less money than buying and running his own servers, while achieving the same levels of performance and security, "that's pretty much what we will do."
"If we need to bring something up very, very quickly, then that's where I strongly believe the cloud will come into play. I believe I can put components of the web site on the cloud, buy computing power, load up applications and pay a monthly retainer to keep them humming and bring them online as we need to," he said.
Similar topics