Opera's latest Mobile version is out in beta for Symbian, providing the best mobile browsing experience with an interface borrowed from Opera Mini.
Opera Mobile has been starting to look a little tired when compared to its little sibling, Opera Mini, which has been sporting a shiny new interface since September, so the Symbian release of Opera Mobile version 10 converges the interfaces as well as bringing Turbo to Mobile customers.
Opera's browser comes in three varieties - the desktop browser, a Mobile version that runs native on Symbian and Windows Mobile, and a Mini version written entirely in Java that works on the vast majority of handsets.
Recently it's been Mini leading the way with graphical tabs and Turbo mode which offloads part of the rendering to servers run by Opera. This release brings both those innovations to Opera Mobile: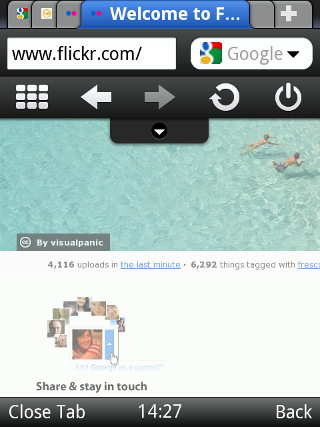 Tabs tabs everywhere, displayed at the top and switching at the bottom
Opera tells us that Turbo is coming to the desktop too. That might seem odd, given most desktop computers have the processing power to render web pages adequately, but Opera discovered a whole class of users, mostly in the developing world, who've been running Opera Mini on desktop machines just to get access to Turbo, which proves a market for the technology.
Opera Mobile remains free to download, but only for Symbian for the moment: Windows Mobile will, apparently, follow soon.
Opera Software makes money charging handset manufacturers to pre-install the browser, and through relationships such as the in-built Google search. The company maintains a policy of putting in anything that makes money, but ensuring that whatever goes in can be removed or changed by the user - which is a fine philosophy, and long may it last. ®
Similar topics