Leccy Tech Following its official unveiling at the Frankfurt Motor Show, Peugeot's visually arresting BB1 e-car has been sent on a European Grand Tour to drum up interest and give the masses a chance to kick the tyres.
The tour kicked off at Berlin's Potsdamer Platz at the weekend and the following stop is London where the car will be on display in Covent Garden on 7 and 8 November.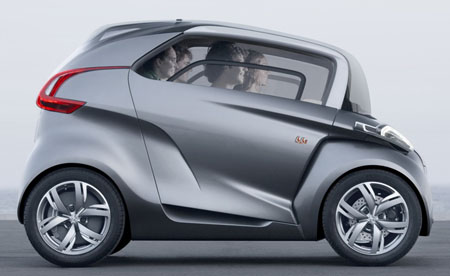 Peugeot's BB1: not a Ford Capri, but equally bonkers
If you can't get along to that then you can catch up with the BB1 in Madrid, Milan or Paris later in the year.
What opportunity there will be to tell Peugeot e-car bosses what you think of their... er... interesting automotive design, we can't say.
In a further effort to get all touchy-feely with the yoof of Western Europe, Peugeot has even set up a dedicated Facebook page for the BB1.
More details of the tour and all the relevant social network links can be found here. ®