The Beatles are releasing their whole back catalogue on a USB stick.
It's a limited edition release, with just 100 sticks available to UK punters out of a total release of 30,000.
The group has attempted to keep its music off the internet and have refused to have anything to do with Apple's iTunes malarkey. Of course that strategy has not entirely worked. Their music is still available via BlueBeat, despite efforts by EMI, and in September they released a 13-CD boxset of digitally remastered albums.
The USB stick, which comes in an apple-shaped holder, will cost you £200 - substantially more than the CDs, which seems a bit unfair.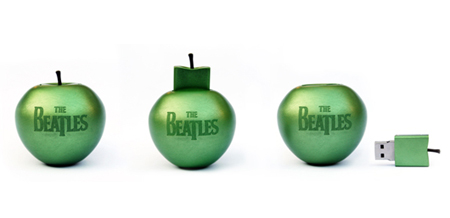 You can add a heartattack to Steve Jobs' list of health issues
But is the apple a reference to the name of their record label or a pointed dig at Steve Jobs?
Along with the albums, the dongle will include 13 mini-documentaries about the studio albums, artwork and liner notes. They will be available from 7 December, but you can pre-order now, link below.
For audio wonks we should note that the contents will be provided in FLAC 44.1 Khz 24 bit and MP3 320 Kbps formats, fully compatible with PC and Mac.
Sky News wrongly reported that the band's catalogue would soon be available on iTunes in September.
You can get your very own Beatles stick, if you're quick, from here. ®
Similar topics