Google's UK search tentacle has decided to ignore the fact that 4 November marks the day in 1890 that Edward, Prince of Wales, inaugurated the City & South London Railway* and instead is currently flourishing a Wallace and Gromit "doodle" to celebrate the pair's 20th anniversary.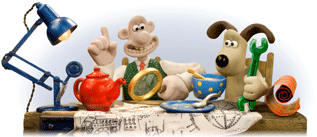 Yes indeed, it's 20 years since the lads travelled to the Moon in A Grand Day Out, a fact celebrated down at the official website.
Other fictional characters honoured by Google with a custom masthead include Asterix (50th anniversary, 29 October 2009), Astro Boy (7 April 2008) and, of course, St George - finally granted the recognition he deserves in 2008. ®
Bootnote
*The world's first deep-level underground railway, now forming part of the Northern Line.