It's not a tablet, it's something new, claims manufactuer Litl, developer of the Webbook, a 12in machine designed to be used not only like a laptop but also be mounted on its side like a touch-operated all-on-one desktop.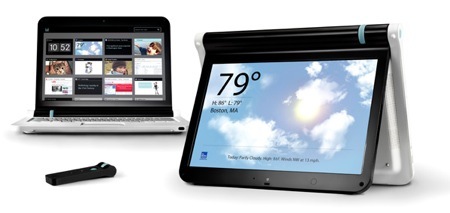 Lilt's Webbook: 12in cloud appliance for all the family?
OK, so it's essentially a laptop you can fold the screen further than you can with other such machines, right round the back, in fact, but Litl also maintains the Webbook isn't a pure notebook computer.
For starters, it runs a home-grown operating system that maintains itself overnight, downloading updates and so forth when the machine's not in use, in true family-oriented appliance style.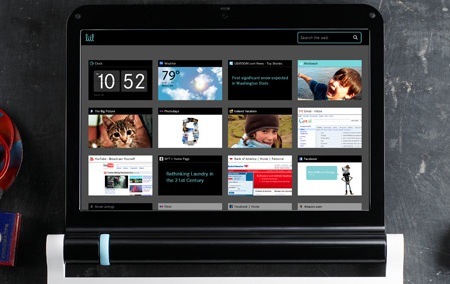 The OS is widget based
Litl hasn't said what OS the Webbook uses, but it certainly has a Moblin look about it, with its presentation of website bookmarks, contacts, media files, social networking accounts and so on as on-screen widgets. It has true widgets too.
Litl has kept a little less mum about the hardware: the Webbook has a 1.6GHz Atom processor and a graphics core with enough oomph to "accelerate H.264 video and give you 720p on a large screen TV through HDMI". It's got 802.11b/g Wi-Fi, webcam, 1GB of memory, 2GB of Flash storage - Litl thinks you'll be using cloud-based storage mostly - and USB ports.

Use it in 'easel mode' or like a regular netbook
Another innovation: the Webbook's hinge contains a blue wheel you can use to scroll through webpages, pictures and widgets. It works in notebook mode but is especially handy when the Webbook's folded round in what Litl calls "easel mode".
The Webbook goes on sale today from Litl's website for $699 (£426/€474). An optional The compact IR remote that has a wheel of its own and a more traditional trackball for $19 (£12/€13). ®