This article is more than 1 year old
Bookeen Cybook Opus
Kindle who?
None of this stops you from downloading DRM-free e-books, and here the news is more promising with the whole Project Gutenberg library and other gratis online sources at your fingertips. The Opus has 1GB of on-board storage which, Bookeen says, is enough for 1000 books. Not enough? There's a Micro SD card slot in the Opus' top edge. If DRM-free is your choice then connecting the Opus to a PC or Mac USB port and copying e-books across is all you need to do.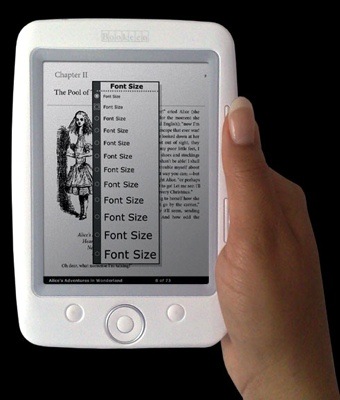 Bookeen scores points for adding an accelerometer, making it easy to flip from portrait...
Don't transfer music files - the Opus isn't one of those audio-enabled e-book readers. That means its battery is used solely for refreshing the E Ink screen, which it's rated to do 8000 times. The battery is charged through the Opus' mini USB either port from mains power or a data cable. A pink light above the screen tells you the battery is charging, this goes blue when the battery is full and also, rather irritatingly, flashes when the device works to open a new book or progress to the next page. There's a removable cover on the back of the reader's casing so that you can replace the battery.
The Opus' screen is smaller than usual: 5in, like the new Sony Reader Pocket Edition. But its 600 x 800, 200dpi resolution gives a clear enough rendition of text. There's no backlight, so you'll need a torch for under-the-covers nighttime reading.
The display can show four shades of grey, which is limited compared to what some of Bookeen's competitors deliver, but it's perfectly adequate. An accelerometer means the screen auto-rotates as you turn the Opus in your hand, and we think this is a feature other manufacturers should take a note of.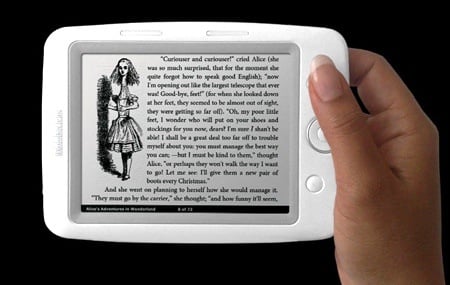 ...to landscape orientation
At 151 x 108 x 10mm, the Opus would fit into some pockets, and at 150g it's hardly a burden to carry. It comes with a slip case which increases those dimensions somewhat and which doesn't do justice to the lovely, copycat-white plastic of the Opus itself.