As it's tip-top, you might have expected it would feature LED backlighting, the technology pushed by Samsung and others to give deeper blacks and greater contrast. But it's not present here. Instead, the hero feature is 200Hz MotionFlow frame interpolation, designed to offer smoother results with fast-moving subjects like sport, for instance, by adding in extra, computer-generated frames of video.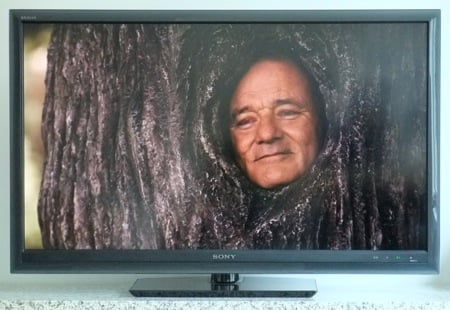 Grained: has Bill Murray ever looked this good?
It also has the latest version of Sony's image-processing engine. Sure, every new TV seems to change the number of the processing system, but Bravia Engine 3 does have a lot to offer.
Anyway, enough theory. Turn on the TV and the Sony logo lights up. Don't worry, you can set it either to stay on or fade out after a few seconds as you choose.
The remote, meanwhile, is large, capable and easy to use. There's even a blue backlight so you can find the right button when you've dimmed the lights to watch a movie. It fits the hand well and feels good, not least thanks to a ridged underside that rests comfortably on the fingers.

The remote's good - and even backlit, too
Press the Home button and you'll see that, like other Sony TVs, the Z5500 uses the XMB interface familiar to Sony PlayStation 3 users and increasingly used on other products, like Vaio laptops. Two intersecting lines of icons makes it easy to get to the items you need.