USB 3.0 thumb drive pops up
Super Talent goes SuperSpeed
---
Flash vendor Super Talent is leading the pack again and has come up with a USB 3.0 thumb drive.
Its SuperSpeed USB 3.0 RAIDDRive comes in 32GB, 64GB and 128GB capacities and works with current USB 2.0 ports, but obviously at USB 2.0 speed. Plug it into a proper USB 3.0 port and it transfers data much, much faster, at up to a nominal 4.8Gb/s. It should be ten times faster than USB 2.0, which runs at up to 480Mb/s, and this will make a big difference to large data transfers.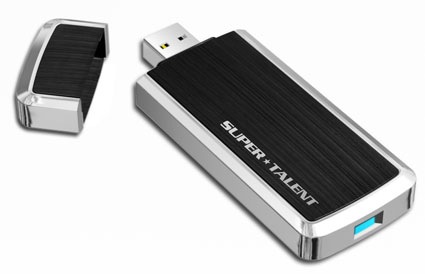 SuperTalent's RAIDdrive: fast
In the real world we might assume USB 2.0 delivers 30-32MB/s and USB 3.0 will give us 320MB/s. Super Talent says we can actually expect 200MB/s in USB 3 mode but reach 320MB/s by using a separate UAS Protocol driver. That will make backup to external disk a very pleasant experience.
The RAIDDRive uses what Super Talent calls "multiple pairs of differential serial data lines technology" to boost performance. It measures 95 x 37 x 13.5 mm and will be available in December from Super Talent's resellers. No prices were revealed. ®