As well as presenting content stored on devices attached to its its USB ports, the Hisense is also fully DLNA/UPnP compatible, so as long as your Hisense unit and router are within an Ethernet cable's reach of each other you can use it to stream media directly from your PC or a suitable server.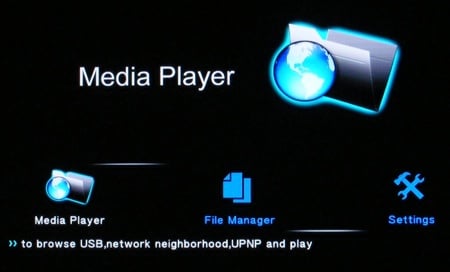 The UI is basic, but it does the job well
The Hisense is powered by a 400MHz MIPS processor with 128MB of RAM to play about in. The net result of that rather dull fact is that UI reacts quickly to commands and the system proves nicely fleet of foot when it comes to navigating through media. We were particularly impressed by the system's ability to scan through video files at either 1.5, 2, 4, 8, 16 or 32x normal speed though you can't do the same with audio files, alas.
The main menu presents three options. Media Play and Settings are self explanatory, while the File Manager functions allows you to delete or copy files to, from or between anything connected to the device.
Drill down into any of the menus and it becomes obvious the designers had a banner over their desk that read 'Keep It Simple'. So click on Media and you arrive at options to access files stored on anything connected to the two USB ports or available on network attached storage or a UPnP server. From there on, it's just a matter of drilling down to the folders you want. It's all so simple it makes the user manual redundant.
The UI itself is a thoroughly decent bit of design with all lettering and icons nicely sized for squint-free viewing from the comfort of your favourite armchair. It also has a handy in-window preview option for video content.
If we had to pick a hole, it would be the system's inability to show album artwork be it embedded or dropped into the relevant folder as a JPEG, but that's a minor gripe.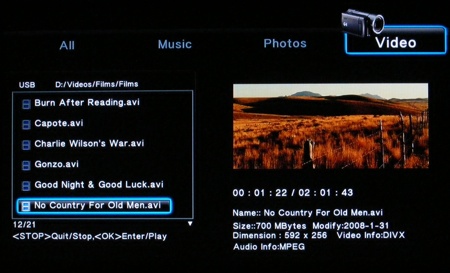 What else do you need to know?
We can't seem many people complaining about the video container and codec support, either. It's rather impressive, with WMV, MPEG 4, Divx/Xvid and H.264 codecs all catered for, along with AVI, MKV, QuickTime and MP4 containers, all up 1080p in resolution. RMVB files are also accommodated up to 720p along with MPEG 1, MPEG 2, Flash, ISO, IFO, VOB and TS files.