During our test, the unit managed to play every HD file we threw at it irrespective of type or resolution or whether it was housed on a USB hard drive or streamed from a UPnP server.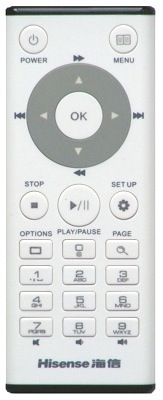 The remote's not bad, either
Audio file support is similarly comprehensive and includes MP3, Flac, Ogg Vorbis, AAC, WMA, LPCM and ADPCM.
For those of you who take your surround sound seriously, the Hisense can handle DTS-HD 5.1 and Dolby True-HD, while fans of world cinema are also catered for with the system able to recognise and interpret SubRip subtitle files.
If you fancy using your telly as a 42in digital picture frame, the Hisense supports JPEG, BMP, TIFF, PNG and DNG images, and comes with all the slideshow timing and effects settings you would expect to find in a dedicated device.
Of course, all this assumes your media is DRM free. If it isn't, you're stuffed. Hisense also only says that the device works with FAT- and NTFS-formatted USB storage devices, which may raise issues for Mac users unused to working with cross-platform drives.
Verdict
For less than £60, the Hisense is an effective way of getting your digital media files onto you telly without having to hook up your PC. The box itself isn't unpleasant to look at, the connection sockets are well laid out, the remote is better than we expected at this price point, and its file support excellent. Combine all that with one of the more straightforward user interfaces we've seen on a device of this type, and the Hisense is not a bad box of tricks. ®
More Connected Media Player Reviews...

WD
WD TV

LaCie LaCinema
Black MAX

Freecom
MediaPlayer II

Wyplay
Wyplayer

Hisense 1080p Media Player
A very cost effective and capable way of getting your video, music and pictures to play on your telly.