Plucky* Anna Friel has proved she got the thesp Right Stuff by battling on with a performance of Breakfast at Tiffany's, despite the fact that a punter puked over six fellow Haymarket Theatre audience members.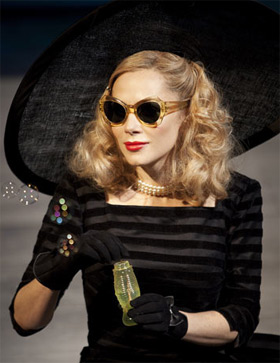 Poor old Friel (pictured, as Holly Golightly) was halfway through a musical number when the spectator discharged a gastric load from the upper balcony. The half-dozen unfortunates below were ushered from their seats for an emergency scrub-down, while theatre staff moved to assist the ailing customer.
Friel, who according to the Daily Mail "valiantly warbled on", recounted: "I thought it was late-comers who shouldn't have been allowed in - but it turned out someone had vomited from the balcony over six people and they were being escorted out to be cleaned up.
"I carried on singing but almost lost my way as there was such a noise coming from the seats. I almost lost it but am glad I kept my concentration."
Bless. The Daily Mail notes that everyone "eventually returned to their seats after the interval". This included the perpetrator of the outrage, a fact which squashes any suggestion that the incident was provoked by a violent allergic reaction to Friel's dulcet tones.
Those of you are tempted to question why this incident merits the attention of the El Reg Bootnotes soviet should note that we've been keeping a close eye on Breakfast at Tiffany's since the Haymarket Theatre banned audience members from pointing their mobile phones at Friel in her birthday suit.
Furthermore, we can quite astoundingly reveal that Reg Hardware has a man on the inside - David Phelan, who does their telly reviews when he's not treading the boards. Remarkable. ®
Bootnote
* Officially-approved adjective from the Daily Mail style guide.