Memory maker to sell films on Flash
Kingston Technology partners with Paramount
Memory specialist Kingston Technology is to sell movies on memory cards.
In a deal announced with Paramount last night, the company will pre-load the cards with full-length films.
The devil will surely be in the detail, and that's probably why neither Kingston nor Paramount provided any. Which movies will be included? When will they be included? The partners weren't saying.
They did hint that the films will come on both USB and SD cards. Some movies will be bundled with the storage - buy this SD card and get a free film - others will be offered for sale as content that happens to come on Flash rather than disc.
It wasn't revealed what format the content will use, whether it will be DRM-protected, or whether it will come in standard definition of HD.
Memory cards have been seen as a key alternative to DVDs and Blu-ray Discs for delivering movies to consumers while broadband speeds increase to the point where film downloads are sufficiently rapid for quick of-the-moment purchases.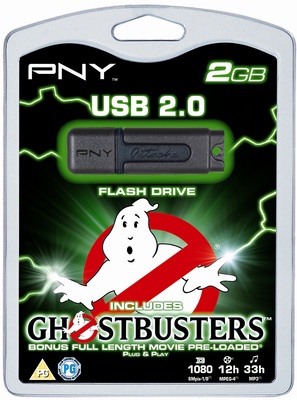 The Shape of Things to Come?
(We prefer the 1930s version)
Back in March 2008, the chief scientist at George Lucas' THX subsidiary, Laurie Fincham, said: "By the time Blu-ray really finds a mass market, we will have 128GB cards. In the future I want to be able to carry four to five movies around with me in a wallet, or walk into a store and have someone copy me a movie to a USB device."
Later that year, Toshiba invested $20m in US digital content delivery specialist MOD Systems, forecasting that "downloading video content at high speed to an SD Card will offer consumers a quick and simple means to access video entertainment".
Not long after, memory maker PNY offered a 2GB USB Flash drive with Ghostbusters and Ghostbusters II pre-loaded.
That was more a bundle offering, as other such packages have been, so it's interesting to see Paramount considering Flash as a release platform as well as a promotional tool. The real test of its keenness on the technology, however, will be what it releases and when. ®