A 23-year-old US teacher has decided to broadcast the drop of her first sprog live on the internet, thereby becoming a human "textbook" for those seeking birthing enlightenment.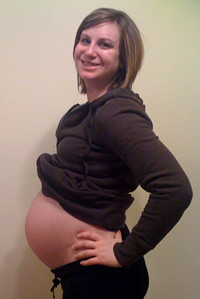 Minnesota mum-to-be Lynsee (pictured), will share the experience with registered members of MomsLikeMe, where she's been blogging like a good 'un as her foetus prepares to emerge mewling into the world.
Hubby Anders is apparently on board for the ride, although he was "a little hesitant at first", as Lynsee explained to ABC News.
She said: "We wanted to share this experience. If I were in a classroom, I'd be teaching about development. It was a way for me to teach… A way for me to use myself as a textbook."
Whern the time comes (imminently, apparently), "a cameraman will be in the hospital room with Lynsee, her husband, her mother and her midwife". There will also be a second camera positioned in the corner to provide an alterative view of the action, but viewers will not enjoy "graphic shots taken from over the midwife's shoulder".
Lynsee concluded: "I hope to give women a sense of empowerment and joy because it's a very miraculous everyday event. We're just sharing the story from the empowerment and emotional aspects." ®
Similar topics