Panasonic Lumix DMC-TZ6
Super-zoom for the cost-conscious
Review Panasonic's DMC-TZ6 could be considered the little brother or, if you want to be a little less charitable, a stripped-down version of the DMC-TZ7 we looked at in August. Both models are super-zoom compacts or Travel-cams, designed for the person who wants a big optical zoom in a pocket-sized camera. The DMC-TZ6 is around £60 cheaper than the DMC-TZ7, but does it show in the results?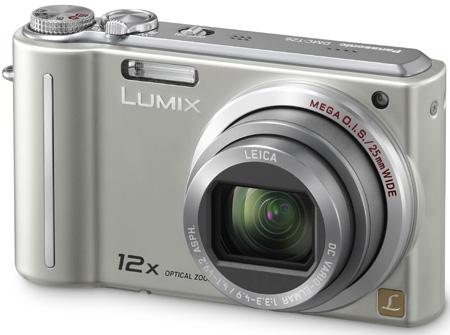 Lighter on features and on price: Panasonic's Lumix DMC-TZ6
On the face of it, there's relatively little to choose between the DMC-TZ6 and DMC-TZ7, with both offering 10.1Mp performance and a 12x optical zoom courtesy of a 4.1-49.2mm f/3.3-4.9 Leica DC Vario-Elmar lens, providing the equivalent range of 25-300mm on a 35mm. They both measure 103.3 x 59.6 x 32.8 mm and weigh around 230g with a lithium-ion battery and an SD/SDHC card.
Each has around 40MB of internal memory and they share the same normal shutter speed range of 8-1/2000sec. They include AF tracking, which allows you to lock onto a moving subject without half-depressing the shutter button. Their normal ISO range operates between 80 and1600, and there's a high sensitivity setting offering ISO 1600-6400. Both models are supplied with Panasonic's PhotofunStudio, plus Arcsoft's Panorama Maker and Media Impression software.
However, the most obvious difference is that the DMC-TZ7 offers HD movie recording (in both AVCHD and MJPEG formats) at 30fps, whereas the DMC-TZ6 provides WVGA, VGA and QVGA-resolution MJPEG movies at 30fps. The DMC-TZ6 uses a smaller 1/2.5-inch image chip and utilises a Venus Engine IV image processor whereas the DMC-TZ7 has a Venus Engine HD dual processor.
Both cameras offer Face Detection technology, but the DMC-TZ7 also includes Face Recognition technology. The DMC-TZ6 has a 2.7in LCD screen composed of 230,000 dots while the DMC-TZ7 sports a 3in screen with 460,000 dots. So, if anyone tells you the DMC-TZ6 is simply the DMC-TZ7 without HD video, think again.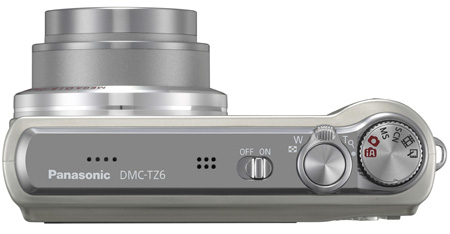 Finger trouble: the Mode dial could be more robust
When it comes to handling however, both share the same irritating mode dial which has a flimsy locking mechanism and slides around like a wet bar of soap. The result is that it's very easy to inadvertently move it out of position and get a "Mode Dial is not in proper position" warning message on the LCD screen – or find you've taken a short movie clip and not the single shot you intended.