Sony Reader PRS-600 Touch Edition
Real page turner?
Review When we reviewed Sony's original PRS-505 Reader a little over 12 months ago, our only real criticism was that the plethora of buttons and switches that festooned the device would be better replaced by a touchscreen.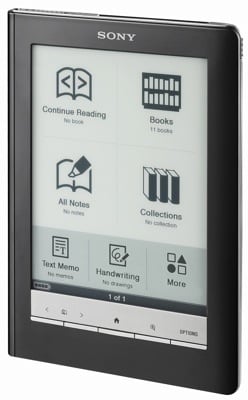 Revised edition: Sony's PRS-600 Reader Touch
Now Sony has released its next-generation Reader, the PRS-600, which does indeed have a touch screen, hence its 'Touch Edition' moniker. Having asked, we have received. But should we grateful?
Look at the Touch from any direction other than face on and the differences between it and the old Reader are a hard to discern. At 121 x 174 x 10mm, it's a shade shorter and narrower but just over 2mm thicker than the original. At 286g it's also 26g heaver than the old model.
Like the 505, the 600 has an aluminium case which makes for a solid and flex-free bit of kit that should last the course. In order to keep the front as clear as possible, all the necessary ports, sockets and switches are crammed into the top and bottom edges of the device.
Up top there are slots for both SD and Memory Stick Duo storage expansion, along with the on/off switch and a stylus – more on this below – while down below sit a 3.5mm headphones jack, mini USB port and power socket. Since Sony doesn't bundle a power adaptor, you'll have recharge the 600 using the supplied USB cable and a handy powered-up personal computer. This takes four hours opposed to just two with a 5.2V mains charger.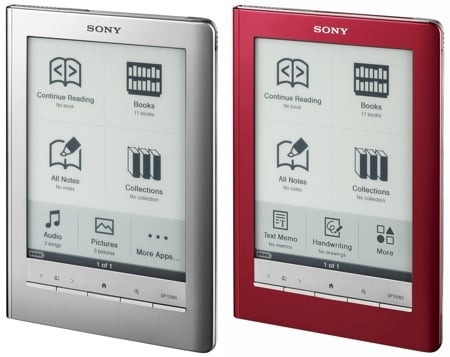 Other jacket colours available - but not yellow, thriller fans
Details aide, the new Reader is an altogether more refined bit of design than the original and Sony has tried hard to make it look bookish, with a fake spine along the left-hand edge and a gentle taper in profile on the right.