The Times newspaper says it won't be repeating an advertisement that contained a false and misleading piece of environmental alarmism. The advert, part of a series boasting its eco-credentials, claimed that the world's oceans would be free of fish by 2048. But the prediction was debunked when it was made three years ago, and the academic responsible has since joined forces with his critics to disown his earlier claim.
The paper has told fishing industry journal Intrafish that it wouldn't be repeating the advert, which was created to show that The Times was the only national paper with an Ocean correspondent. Last month we reported how The Times had claimed in advertisements that the North East Passage - a commercial trade route open since 1934 - had just been "opened" for the first time by global warming. Again, it used an assertion to justify its, er... brilliant environmental reporting credentials.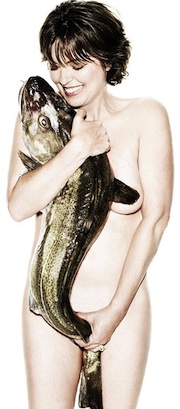 Save this old trout!
Maritime conservation researcher Boris Worm had made the claim in a 2006 paper in Science, which despite its reputation as a prestigious peer-reviewed journal, has a weakness for publishing shoddy junk science on environmental subjects. In a note accidentally sent to the press, Worm had said the attention grabbing claim could be an effective "news hook to get people's attention."
The Worm has since turned: revising his earlier view. According to Intrafish, Times correspondent Frank Pope contacted the paper's marketing department.
But if there's one thing dumber than environment reporters, it's environmentally "aware" celebrities. This summer Greta Scacchi was one of several celebrities to pose nude with a cod, to draw attention to the cause. Richard E. Grant, Terry Gilliam and Lenny Henry also stripped off. A documentary called The End Of The Line also makes the "No Fish by 2048" claim. The film has been described as the equivalent of Al Gore's An Inconvenient Truth for fishing.
Which says it all, really. ®
BootnoteAn earlier version of this story incorrectly referred to Boris Worm as "Boris Pope". Apologies to Herr Worm./small>