This article is more than 1 year old
Sun's surviving staff hit with 'motivation' missive
Code: Your solace, our savior
Exclusive Sun Microsystems has set software engineers seven goals in the wake of new layoffs, hoping to keep them focused amid uncertainty but to also hit existing corporate objectives.
Among the targets: focus all their efforts on Sun's Kenai hosting and collaboration service, and deliver a "solid, scalable internal proof-of-concept" of Sun's planned cloud storage for a public preview release. The preview is expected soon, while Sun earlier this year committed to deliver its separate JavaStore in the US by the end of this year.
Also, the company hopes to migrate all sites serving developers off of Sun's current CollabNet service provider and onto Kenai, while moving the flagship Sun.com site out of Nevada and onto a hosted facility at its Labs in Santa Clara, California with Kenai - and without a single outage.
Sun's corporate objective is to completely cancel is contract with CollabNet, which is also home to the Sun-dominated OpenOffice project.
Engineers, meanwhile, must keep NetBeans 6.8 on schedule because Sun plans a "demonstrable show of commitment" to its open-source development framework and integrated development environment. The plan is to make the NetBeans platform more of a product.
Vice president of cloud computing engineering Jim Parkinson outlined the goals in an email and company call with staff Friday. The Reg has obtained a copy of Parkinson's email.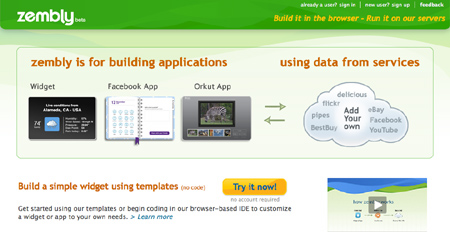 Going, going, gone: Sun's Web 2.0 development site is being closed
In a Friday call to Sun employees, Parkinson noted how staff numbers are dwindling at Sun. "Reductions over past few days were unfortunate, but necessary. We've also lost a lot of people to attrition over the past few months, so we're a lot smaller organization than we were."
The result is that some projects are getting chopped, as engineers are being redeployed. Sun's Web 2.0 application development and hosting service Zembly is one of those, due to a lack of development and support resources. Zembly started life at the height of the Web 2.0 frenzy in 2006 and hit open beta in January this year. Engineers who'd worked on Zembly have been deployed to other Sun projects.
"[We] Will turn [the] site off and start talks with Oracle on where to go with it," Parkinson said.
The Sun Software Library, an on-line catalog that lists commercial and open source software that runs on Sun hardware and software, is going into "sustaining mode". The suggestion is this might be picked up by Oracle, who'd been looking at building its own catalogue.
Parkinson's emails said the last few months at Sun have been challenging "to say the least," the last few days especially so.
"The best thing we can do in the middle of all this uncertainty is continue to make progress and focus on the things in front of us," he said.
To that end, Parkinson set the short-term goals of moving sites and projects on to Kenai, delivering the storage beta, migrate Sun.com to the Palo Alto labs without the site going down, and hit the NetBean roadmap goals. Also on the list, complete productization of technology for cloud deployment and management from Q-Layer it bought in January.
Parkinson noted on Kenai, however, that it was up to Sun's individual project teams to put their code on the system rather wait for the engineers building Kenai to make the move. "The Kenai team will not become a migration service. What the team will do is make Kenai work well, and people who want to move their projects will do so," Parkinson's email read. ®