Police fail to dampen down bonfire night Westminster protest
Met backs down in face of massed ranks of Guy Fawkes
---
Officers responsible for Parliamentary security stayed calm this week, despite the unexpected arrival - on the 404th anniversary of an infamous plot to blow up the Houses of Parliament - of several dozen masked men and women dressed as Guy Fawkes.
Meanwhile, a distinct lack of instant response from the Met to what most passers-by might consider to be a demonstration, suggests that the bad press that they have received over the past few years from enforcing draconian rules on demonstrating in the vicinity of parliament has led them to conclude that discretion might be the better part of policing public order.
On Thursday afternoon, about three dozen individuals, kitted out as Guy Fawkes and wearing V for Vendetta masks, took a "stroll" down Whitehall.
As a token of their good intentions, they left a rose at the entrance to 10 Downing St, although police officers there refused to take it in – possibly on the grounds that it might conceal a deadly airborne nerve agent. They then stopped off at the Westminster Arms, before making their way en masse towards the principal public entrance to Parliament – St Stephen's Gate.
They were definitely not led by an individual best known to the world as blogger aulde Holborne. He explained that he was merely "out for a walk", and suggested that he could in no way be held responsible if a number of his friends just happened to turn up wearing almost identical outfits (and masks).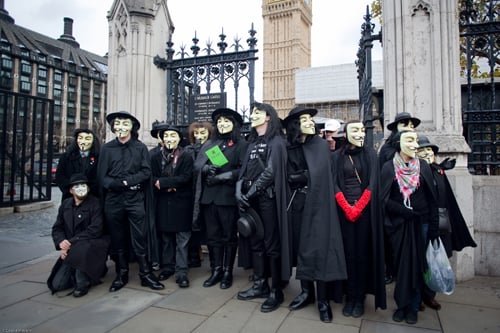 You can never find a copper when you need one. (Photo: Cassie Mayers)
On arrival at parliament, a police officer promptly informed the group that they couldn't "go in dressed like that, sir" – a reference not to the garb, so much as the masks.