Firefox keeps Microsoft 'honest' on 5th birthday
Mozilla waxes lyrical about cutesy tot browser
---
Mozilla is celebrating Firefox's fifth birthday today by proclaiming 330 million users worldwide since the browser was launched on 9 November 2004.
The open source outfit, which last week released the first beta of Firefox 3.6, is popping open the Asti Spumanti today.
"We've come so far in the past five years and we're incredibly excited about the next five," gushed Mozilla in a self-congratulatory blog.
Unsurprisingly, Mozilla fans are hosting parties "all over the globe" in a campaign dubbed "Light the World with Firefox".
And the org has reason to be cheerful, given that it's now the world's second most popular browser behind Microsoft's Internet Explorer, which of course comes bundled with the software giant's Windows operating system.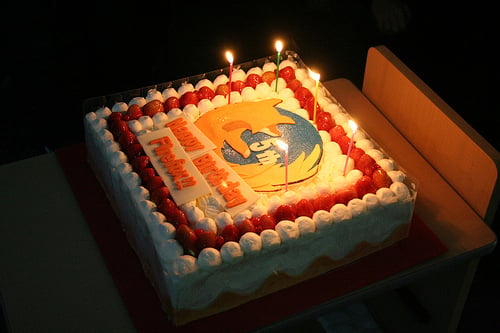 Shove this in your cakehole and eat it
Mozilla's Christopher Blizzard was also quick to claim that the organisation was responsible for making the browser market shift gears and respond to the growing popularity of Firefox.
"We've managed to keep Microsoft honest and forced them to release newer versions of their browsers," he opined.
"Firefox's presence was a large factor in Apple being able to ship a browser to its user base as the Mac came back to the market. We've made it possible for third party browser vendors like Google to enter the market."
But perhaps the most interesting part of Blizzard's ode to Firefox, came when he hinted at what's in store for the future of the browser. And just like Google's Chrome, Mozilla is beavering away at all things video-based.
"Expect to see big changes in the video space. HTML5-based video and open video codecs are starting to appear on the web as web developers make individual choices to support a standards-based, royalty-free approach," he said.
"Expect to see changes in the expectations around the licensing of codecs."
Meanwhile, those of you interested in jelly, ice cream and musical chairs can pop corks here. El Reg advises you pack a bib. ®
Similar topics
Broader topics