This article is more than 1 year old
WarMouse pushes gamers' buttons with OOMouse
Retains 'burning hatred' for Microsoft, not Apple
WarMouse plans to ship a multi-button office application mouse by February next year.
The outfit said it would start taking orders for the pointing device, which comes loaded with 18 chunky programmable buttons and is intended for use by OpenOffice.org fans and gamers, next month.
OOMouse features a shedload of inputs. The 18 programmable buttons can all be double-clicked, and the mouse comes with an obligatory scroll-wheel, 512k of flash memory and support for over 60 separate configs.
Unsurprisingly OOMouse incorporates default profiles for the five core OpenOffice.org apps based on 662 million datapoints hoovered up from the so-called "usage tracking facility" loaded into OpenOffice.org 3.1, which is free desktop software that competes with Microsoft's Office suite.
Users can customise the profiles using OOMouse setup software, an app that will be released early next year as an OSS project under the GNU Lesser General Public Licence version 3.
The mouse supports up to 63 profiles to be stored simultaneously in the device's memory. It's also one of the first computer mice to incorporate an analog joystick and first to permit the use of the joystick as a keyboard, claimed WarMouse.
"In the three joystick-as-keyboard modes, the user can assign up to sixteen different keys or macros to the joystick, which provides for easy movement regardless of whether the user is flying through the cells of a large spreadsheet in Microsoft Excel or on the back of an epic flying mount in World of Warcraft."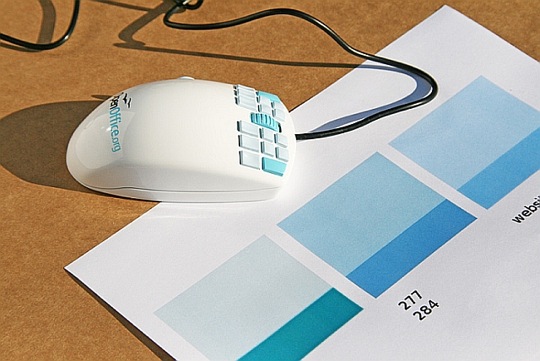 Button up
So why did WarMouse slot so many buttons into its corded OOMouse?
"That's as many as we've determined one can effectively use without having to look at the mouse," explained the organisation.
"The mouse buttons really aren't that small. If you can use a larger digit - the thumb - on a smartphone button less than one-half the size, you're not likely to have any problem using your index, middle and ring fingers on the mouse buttons."
The firm said it would provide "the most efficient finger-to-button map" at some point soon, for anyone confused about how they might go about using the mouse.
Over the weekend some tech sites pointed out that OOMouse could rival Apple's recent release of Magic Mouse, which comes with one sleek seamless multi-touch surface. Some suggested that OOo was also taking a catty swipe at the Jobsian firm with its own mouse.
"A difference in design philosophy isn't personal, it's just a difference in design philosophy," said a defensive WarMouse. "To be honest, we simply don't care that much about Apple. Our furiously burning hatred is already far too occupied with Microsoft."
Anyone interested in getting their hands on the Windows, Linux and Mac-compatible device will first need to shell out $74.99, which is five bucks more than Apple's Magic Mouse. ®
Correction: This story was updated because it had wrongly attributed OpenOffice.org as the maker of the mouse. WarMouse, which is a private company, produced the product and designed it specifically for use with OpenOffice.org.