Kingston SSD Now V 40GB boot drive
Game changer?
Review We are deeply impressed by solid-state drive technology and would love to recommend that you ditch your hard drive immediately. However, there are a few obstacles. You can buy a 2TB hard drive for £135 but have to fork out £195 for an 80GB Intel SSD, up to £300 for a 128GB SSD and £500 for a 256GB SSD.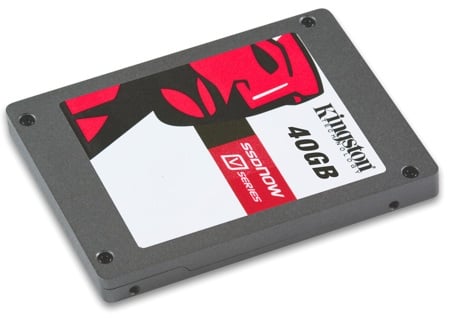 Kingston's 40GB SSD Now V: yes, we know that's bugger all capacity, but bear with us...
That's a huge amount of money for a storage upgrade so Kingston's new 40GB SSDNow V drive sets the cat among the pigeons.
That's right, 40GB.
The new drive comes in two forms. There's a bare drive that costs £70. It works out at £1.75 per gigabyte which is cheap for an SSD, although it still looks pricy compared to a hard drive. The other - more interesting – package is the desktop upgrade kit that comes with a Sata power adaptor, Sata data cable, two rails to mount the SSD in a hard drive bay, and a copy of Acronis True Image HD drive cloning software.
If you're building a new Windows 7 PC, you install the operating system and your applications on the Kingston and store your data files – movies, TV, photos etc – on a secondary hard drive. A decent 1TB drive will cost you £65 so the total expense could be as little as £140 for both drives. Installing an SSD gives you the benefit of rapid start up, very low operating noise and a PC that is amazingly responsive.
Alternatively, you can migrate from hard drive to SSD. Your boot drive is sure to have more than 40GB of used capacity so here's what you do:
Install a spanking new Sata hard drive as a secondary data drive.
Transfer across the reams of data files that are clogging up your old C: drive.
Get your C: drive capacity down to 35GB which will probably involve uninstalling games that you no longer play and having a really good clear-out of the recesses of My Documents.
Install your new SSD and use the Acronis software to clone your C: drive to the SSD.
Shut down your PC, unplug your old hard drive, restart with the SSD as your boot drive, and marvel at the speed and silence of your new PC.