Your reviewer is horribly aware that he may be coming across as a loathsome fan boy, but would like to make it clear that his Windows XP PC has a 120GB SSD as the boot drive along with two 1TB data drives to do the heavy lifting. Switching to SSD has transformed this PC and cut the start-up time from five minutes to less than one minute whilst also reducing noise and heat levels.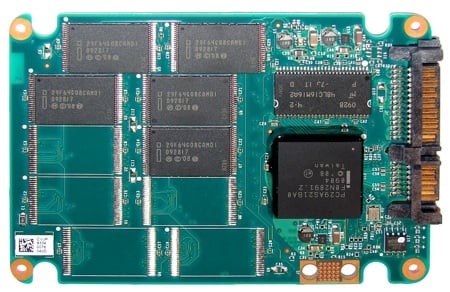 A partially populated front side...
There is no doubt in our mind that you should switch to SSD. Clearly, it would cost a fortune to move exclusively from HDD to SSD which leaves the hybrid SSD-plus-HDD approach as the only one that makes sense.
The question is whether the tiny 40GB Kingston is the best approach, or do you need to shell out more cash for an alternative SSD?
Opening up the casing of the Kingston drive reveals some interesting features. The controller chip is an Intel PC29AS21BA0 which is a very similar part to the controllers used in the Intel X25-M range. Indeed, we are informed by Kingston that Sata Trim functionality is "on the roadmap".
Next, we have a 32MB Micron cache chip, which isn't very exciting, and five Intel NAND Flash chips that provide some food for thought. These chips each have 8GB capacity and are fabricated using the same 34nm process that we saw in the second-generation Intel X25-M SSD we reviewed here. You only need five chips to achieve the 40GB capacity and as a result there are five empty spaces on the upper surface of the drive PCB and ten on the bottom. That's good as it keeps cost low. However, this is balanced by the fact that the Intel controller supports ten data channels so the limited number of chips presents a theoretical bottleneck in performance.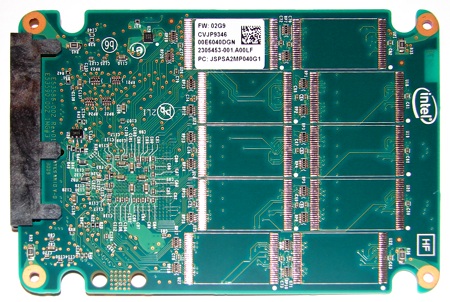 ...and an unpopulated back
Kingston quotes a sequential read speed of 170MB/s and sequential write speed of 40MB/s. This is a fast read speed, but the write speed is very low as you can see when you compare the 40GB drive with other members of the Kingston SSDNow V series, which have a write speed of 70MB/s.
Similar topics