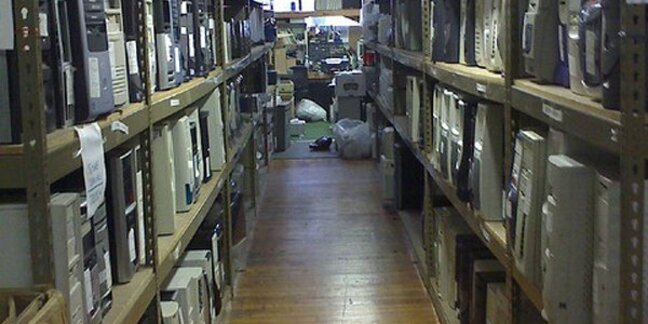 Comment There is no question that networking giant Cisco Systems wants to be a player in the server racket, and its recent Acadia partnership with EMC to sell preconfigured Vblock setups, complete with Cisco blade servers and networking, VMware server virtualization, and EMC storage and system management tools, drives the message home. But it is going to take far more than some clever two-socket Intel server designs for Cisco to be a real player.
Cisco may have been talking about its servers since March, ahead of Intel's "Nehalem EP" Xeon 5500 processor launch in fact, but the company is only now ramping up shipments of its servers. The Xeon 5500s are used in the B Series blade servers that are part of Cisco's "California" Unified Computing System (which were debuted in mid-March as well as in the C-Series rack servers, which Cisco announced in June.
The entry B200 blades started shipping in July, and the high-end B250 with Cisco's home-grown memory expansion electronics (which allows the two-socket Xeon 5500 box to support 384 GB of main memory compared to the 144 GB limit in a regular Xeon 5500 box) started shipping in early October. At that time, Cisco announced the feeds, speeds, and prices for its C200, C210, and C250 rack servers (the latter with the memory extension ASIC) and said the machines would start shipping in November, meeting its goal of having the products out the factory door by the fourth quarter.
It is a pretty good start for a newbie server maker. Cisco has reasonably innovative server designs, a partnership to push the boxes, and a sales channel that is trying to figure out how to work with Cisco to peddle its products and perhaps make a higher margin than might be possible with other products. It also has deep enough pockets to make mistakes and still stay in the server game - provided it doesn't keep trying to buy everything in sight.
Paul Durzan, director of product management for the Server Access and Virtualization Group, says that Cisco is not done adapting its server lineup. While Cisco has never admitted this, I got the distinct impression that rack-mounted servers were not part of the original California plan, but some key potential customers explained to Cisco that they preferred rack servers for a variety of reasons, including the desire to have local storage options and more peripheral expansion. "There are a group of people who only want rack mounts," admits Durzan.
If Cisco did indeed adapt its California strategy, this could make it a lot easier to sell servers. As El Reg previously reported, in the second half of 2010, Cisco will allow the C Series rack servers to plug into the UCS 6100 switch, a Nexus-style converged switch that supports server and storage traffic over the same 10 Gigabit Ethernet backbone (using the Fibre Channel over Ethernet protocol for storage). This will allow the same integrated management tools used in the California blade servers - one of the key selling points in the UCS setup - to be extended out to the C Series racks.
The fact that this is not already the case suggests that C Series racks were an afterthought, but again, Cisco is mum on the subject. Cisco could have been thinking that rack server customers would be more inclined to buy top-of-rack Nexus 5000 switches and end-of-row Nexus 7000 switches and use other management tools.
What is clear is that Cisco now expects the C Series rack machines to significantly grease the skids for its server business. "The idea behind unified computing has clear caught on," says Durzan. "The reception has been incredible, and we have definitely captured mindshare and already have customers in production. The Cs are an easier sell, and rack servers represent a larger market."
Sponsored: Webcast: Ransomware has gone nuclear