Intel has introduced a handheld device designed to help dyslexic, low-vision, and blind persons by using a combination of a point-and-shoot camera and text-to-speech technology to read text that for them would otherwise be difficult or impossible to comprehend.
The Reader has a list price of $1,499. The user points the device's five-megapixel, autofocus camera at a document, book, or sign, snaps a photo of it, then listens to the text spoken by what Intel describes as a "lifelike" male or female voice over either the device's speakers or through headphones. Alternatively, low-vision users can view text at variable levels of magnification on the device's 4.3-inch (10.9cm) 16:9 LCD display.
About the size of a hefty paperback, the reader measures 6.5 by 5.35 by 1.3 inches (16.5 by 13.6 by 3.3 centimeters) and - including a removable battery with a four-hour lifespan - weighs 1.38 lb (.63 kg).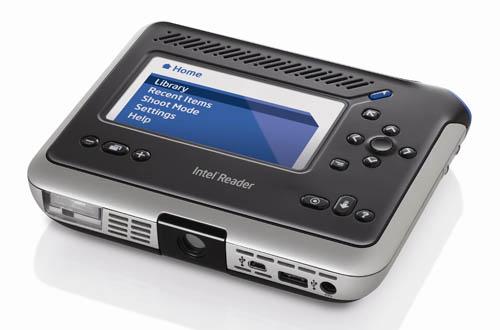 The blind can listen, the vision-impaired can read magnified text
The device can also play talking books in the DAISY (digital accessible information system) format, as well as what Intel describes as "a variety of other audio files," uploaded over USB using the Reader's USB 2.0 type A or Mini type B ports. In addition, the Reader can convert text into MP3s to be played on digital-music players or PCs.
Powered by an Intel Atom processor, the Reader includes a 4GB SSD, about 2GB of which can be used for user data. An on-board buffer can hold up to 20 pages before processing them, and it can store up to 500,000 text-only pages or 600 pages containing both text and images. Books can be scanned with an optional $399 Portable Capture Station, which positions the reader above a book-holding platform.
The Reader was developed by Intel's Digital Health Group based on an idea first developed by that group's director of access technology, Ben Foss, who is himself dyslexic. In a statement, Foss said: "It is important to remember that a central experience of a disability, and especially a learning disability, is loneliness."
The Reader aims to help alleviate that isolation - and, by allowing vision-impaired users to read personal documents without the help of others, to protect their privacy, as well.
Foss notes that "Some people with disabilities can do great things, and some people cannot. But we are trying to level the paying field so that people with disabilities can determine this for themselves." With any luck at all, as the Reader reaches maturity, the price for it and its follow-on updates will drop enough to level that playing field to include vision-impaired users without deep pockets.
The Reader can be ordered today in the US from vendors such as CTL, Howard, and Don Johnston, and in both the US and UK from HumanWare, a member of the DAISY Consortium
A video demonstrating the Intel Reader as used by dyslexic, low-vision, and blind users can be viewed here. ®