Architect Watch A group of architects, in an apparent bid to win a commission for 120m towers topped by a cluster of giant plastic balls at the London Olympics site, has turned to Google for help.
The dominant search engine will provide the group with free advertising encouraging the web public to chip in for the project.
If "The Cloud", as the architects have dubbed their £15m brainchild, is ever built, it's planned that the towers will act as observation decks over the Olympic park, and the plastic balls will display event information and adverts.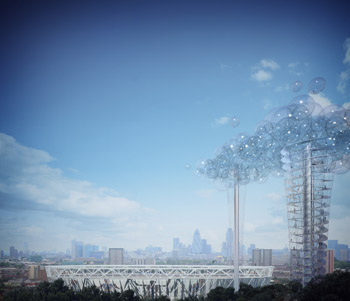 Architecture: Photoshop skills required
The public will also be invited to spaff messages into London's sky via the web or SMS, as far as we can gather. "It will be a monument to crowd-sourcing," the group told the BBC.
Google said it might provide a feed of Londoners' web searches (presumably cleaned up for porn and bomb-making) to The Cloud, "to give a real time 'barometer' of the city's interests and mood".
The design is being entered into a competition for an Olympic park monument, currently being judged by mayor Boris Johnson.
For those who speak fluent architect, here are some lines from the project pitch:
Like all tell-tale signs of brooding weather, the Cloud is a display system. It is both screen and barometer, archive and sensor, past and future. The patterns of its animated skins offer a civic-scale smart-meter for the Olympic Park and for London as a whole, sign-posting particular events, transport patterns, weather forecasts, timetables, and footage either real-time or decades old.

Its movements can reveal the movement of both the crowds below and those within its structure, detected by hidden sensors - a space alive to the touch, an aerial ecology.
Not clear yet? Try some more:
Everyone from around the world will be able to contribute to the Cloud – whether through the admission charges and bodily presence of their visit (where they can in person contribute a piece of data to this vast collective memory), or by their contributions towards a particular sphere and their ownership of a single LED, helping to keep the lamp of London aflame.

Each light could represent a person in the city, who can then choose to control it as desired; or, with fluctuating occupancy, each LED could represent a community from another nation - a varying real-time portrait of humanity and everyday Olympians.
Regular readers of The Register's fearless architecture coverage will be unsurprised to learn The Cloud has emerged from MIT's architecture faculty - they of the "Crowd Farm" and solar curtain.
Little surprise too, then, that The Cloud is big on "energy harvesting" to convert vibrations into usable power. Or in the words of the team, "people power The Cloud; their activities compose its rainfall, their footsteps harvested by energy-collecting devices that transform the people's potential energy into electricity".
MIT's architects are among those pushing such technology hard. A high-profile deployment at the London Olympics would offer priceless publicity.
There's more on the proposal here. ®