It's not the most flexible of satnavs either. It disagreed with our TomTom about whether it was quicker to go through London or around the M25 on a Friday night. An hour later, it was still insisting we turn around and drive back up to M25 - adding at least two hours to the journey. It was only when we came out the other side that it conceded and re-calculated the route. It was also slow to obtain its initial fix - ten minutes into the journey it still hadn't got any idea where we were. On the plus side, it lasted a full three hour's route finding with battery to spare at the end.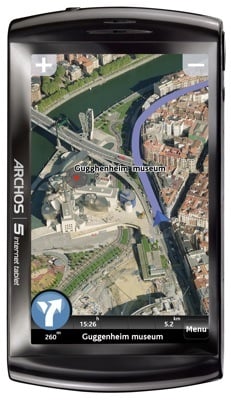 Despite a built-in GPS, the bundled satnav app is just trialware
Archos quotes the 5's battery life at up to 22 hours for audio and seven hours for video, and our test results weren't far off. Playing music on a constant loop came in just under 22 hours and video playback lasted five hours 43 minutes before the battery gave up. We were testing an SSD unit, though, and we'd expect the more power-hungry HDD models to use up their juice a little more quickly.
When it comes to getting files onto the device you can either let Windows Media Player manage the process for you, or directly drag and drop files into the right folders using Windows Explorer.
Fulfilling the Internet Tablet part of its name, there's 802.11n built in and a full web browser so you can jump online whenever you're in range of a wireless hotspot. There's no Flash support currently, which means you can't catch up on iPlayer but YouTube videos will open in the video player app so you can at least watch those.
Verdict
We were very impressed with the Archos 5 first time round and the addition of Android combined with the hardware tweaks only improves things. While it is lacking some aspects of the full Android experience, the 5 still has far more potential than most PMPs that don't even have the option for third-party apps, let alone an already active development community churning out applications. Yes, the iPod Touch does too, but the 5 has a much bigger screen. ®
More PMPs Reviews...

Philips
GoGear
Muse

Sony
Walkman
NWZ-S544

Apple iPod
Touch 3G

Cowon
D2+DAB

Archos 5 Internet Tablet Android-based PMP
The Archos 5 Internet Tablet is everything the Archos 5 was, but with better performance, enhanced hardware and all the advantages Google Android brings to the party.
Price:
£200-370 depending on model. £275 as reviewed RRP